Summer Sessions
May 22, 2023
Honolulu, Oʻahu Hawaiʻi
Aloha kākou to all our TRADES ʻohana and enthusiasts. We're currently enjoying a prolonged spring here on Oʻahu with a slight chill in the air some nights. Our January was spent working alongside Léuli Eshrāghi and collaborators out of Aupuni Space, doing our part to help produce their multi-faceted
afiafi
project. Much of Léuli's time was dedicated to assembling and connecting with a hui of like-minded collaborators, developing ideas in community, and finally capturing the whole thing on video. Filmed in collaboration with kekahi wahi, featuring adorning lei by Reise Kochi, and a multigenerational cast of local performers; we are thankful to all for their integral support of the project. A warm mahalo piha to the Potter ʻohana and the Morehart ʻohana for welcoming us and providing such spectacular filming locations.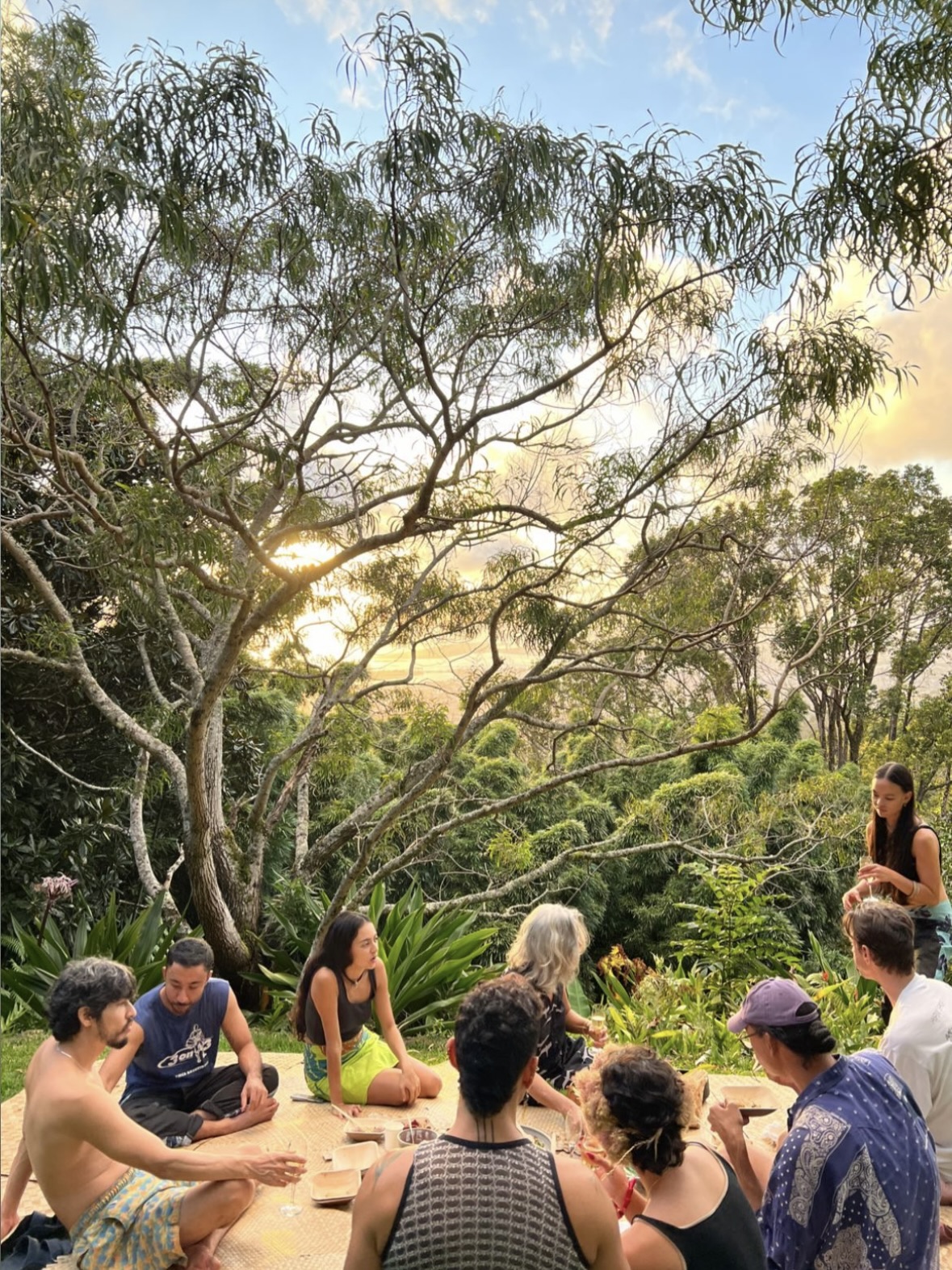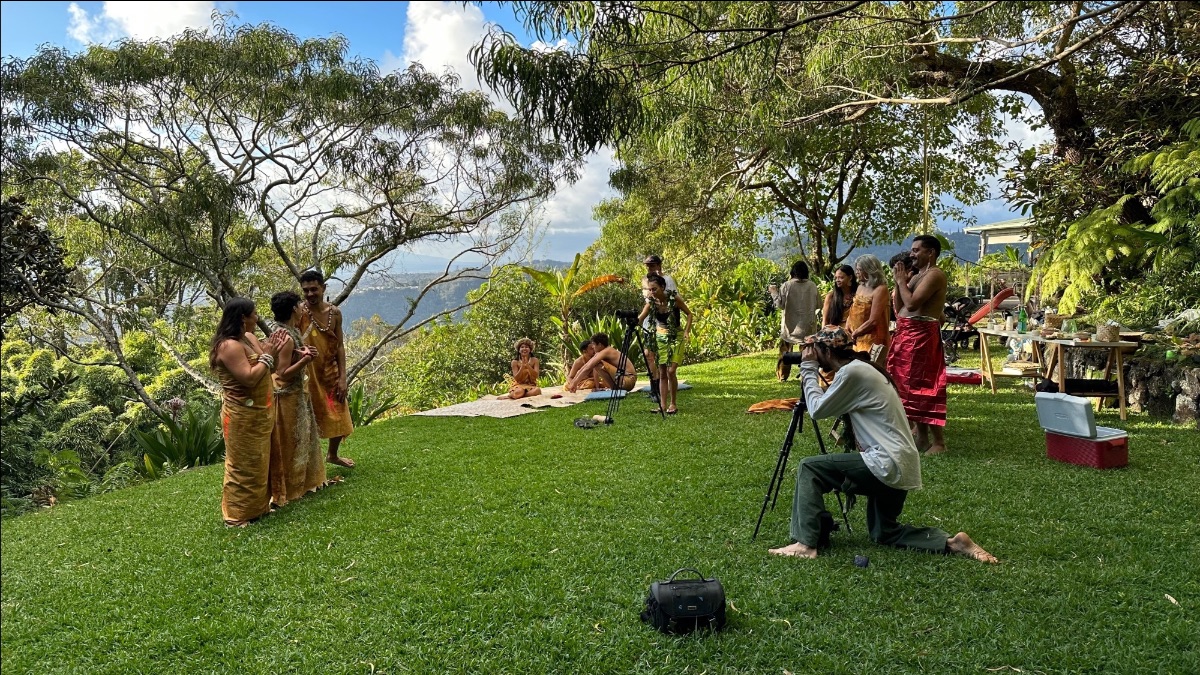 3 views of a collaborative crew working alongside Léuli Eshrāghi and kekahi wahi on
afiafi
production; Pu'u 'Õhia and Ka'alawai, Kona, O'ahu
Léuli's residency began with an open conversation with community at Aupuni Space, led by Drew Kahuʻāina Broderick. We are deeply grateful to Kaili Chun and Waileia Roster, representatives of the Laila Twigg-Smith Art Fund, for their attendance and participation in the evening and most of all for their generous support of
afiafi
. A further mahalo for their support of Koa Gallery's residency for Bhenji Ra, Amrita Hepi, and Jahra Wasalasala Rager. The double bill was conceived to explore and reinforce similar themes—and the back-to-back visits amplified impacts for all visiting artists and local participants. Mahalo to Juvana Soliven, for welcoming Léuli to her Art History class at Chaminade University, where a presentation on an alternative Pacific-Oceanic framing of Art History prompted a lively discussion between the students, Léuli and Juvana.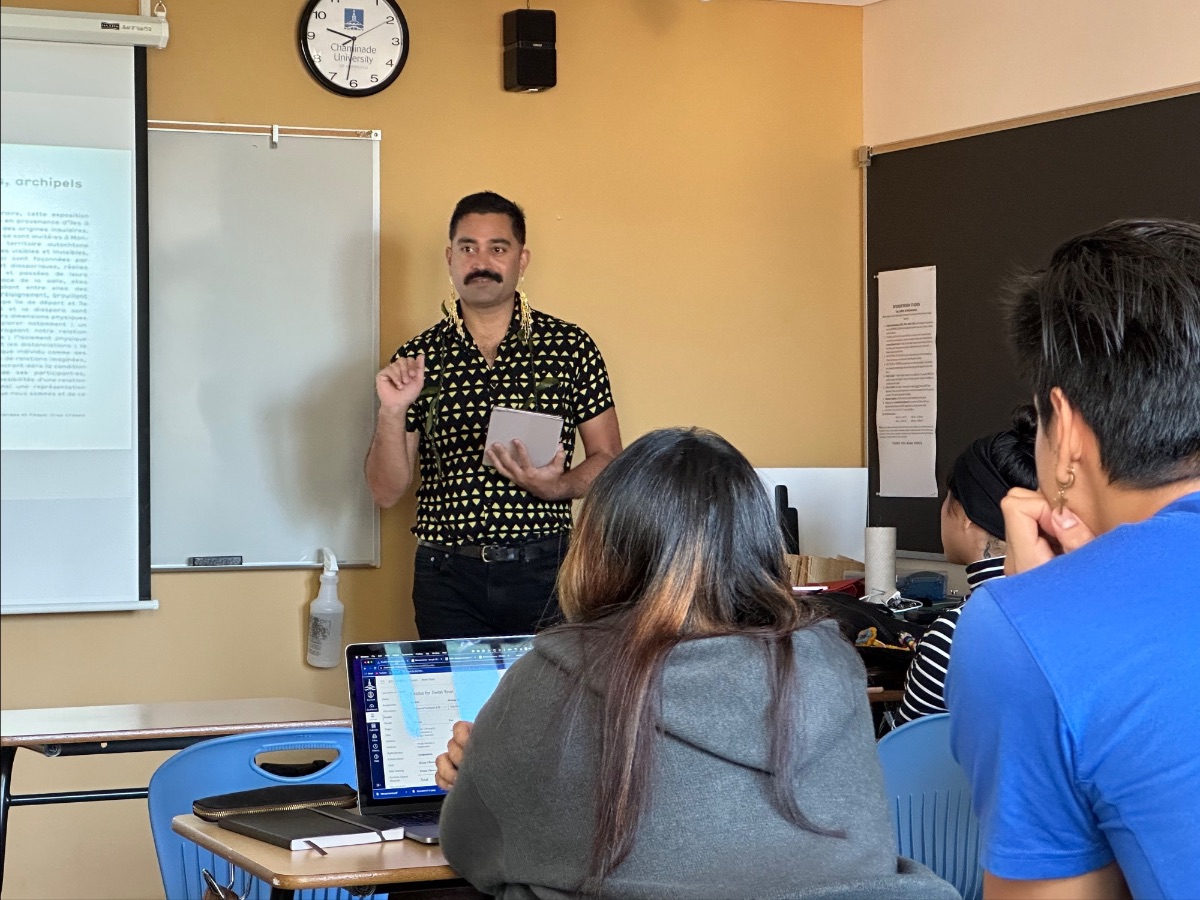 Léuli as a guest at Chaminade University
Drew Kahuʻāina Broderick with Léuli at Aupuni Space
Dane, Léuli, Jaimey and Nanea at the openign of ʻAi Pōhaku at UH Mānoa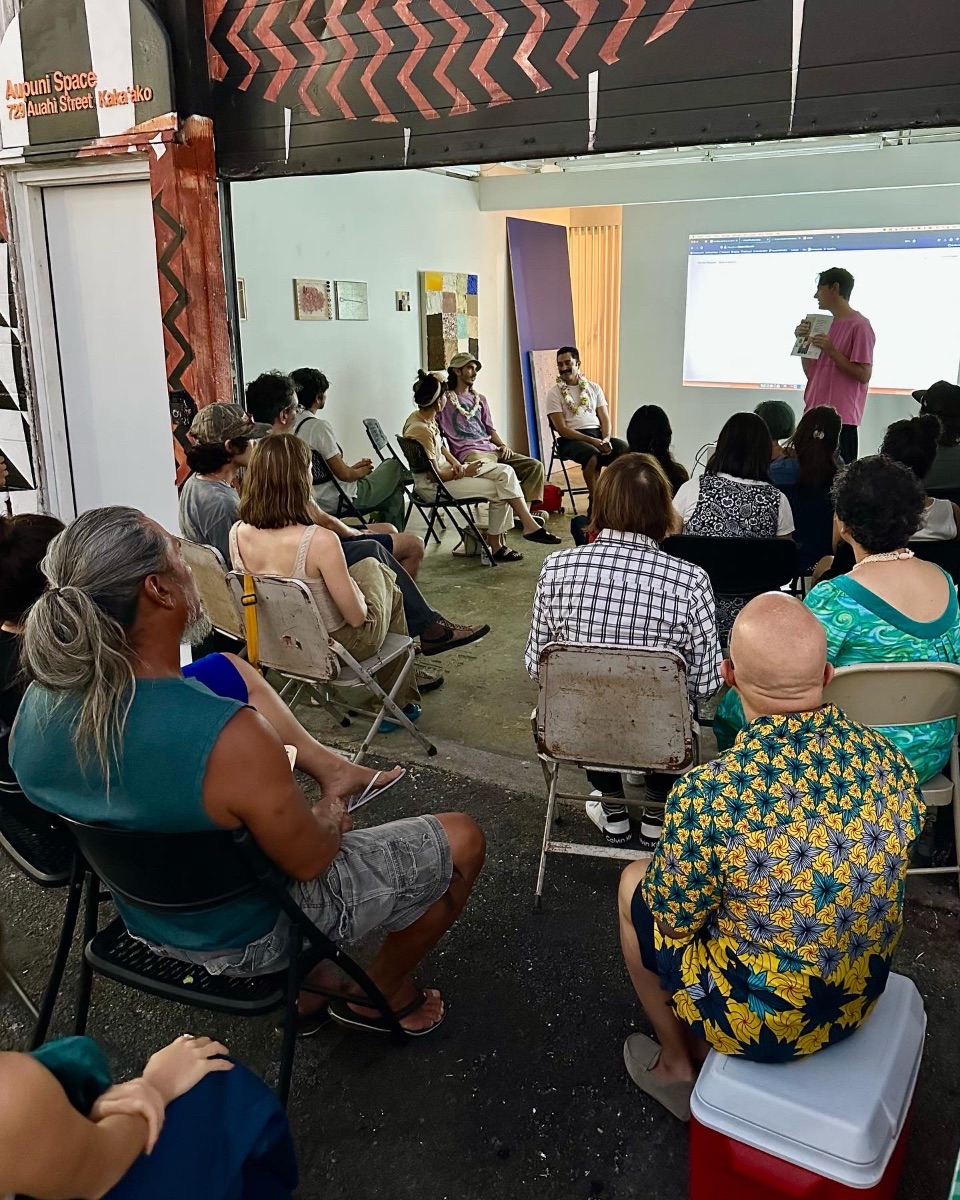 Gathering at Aupuni Space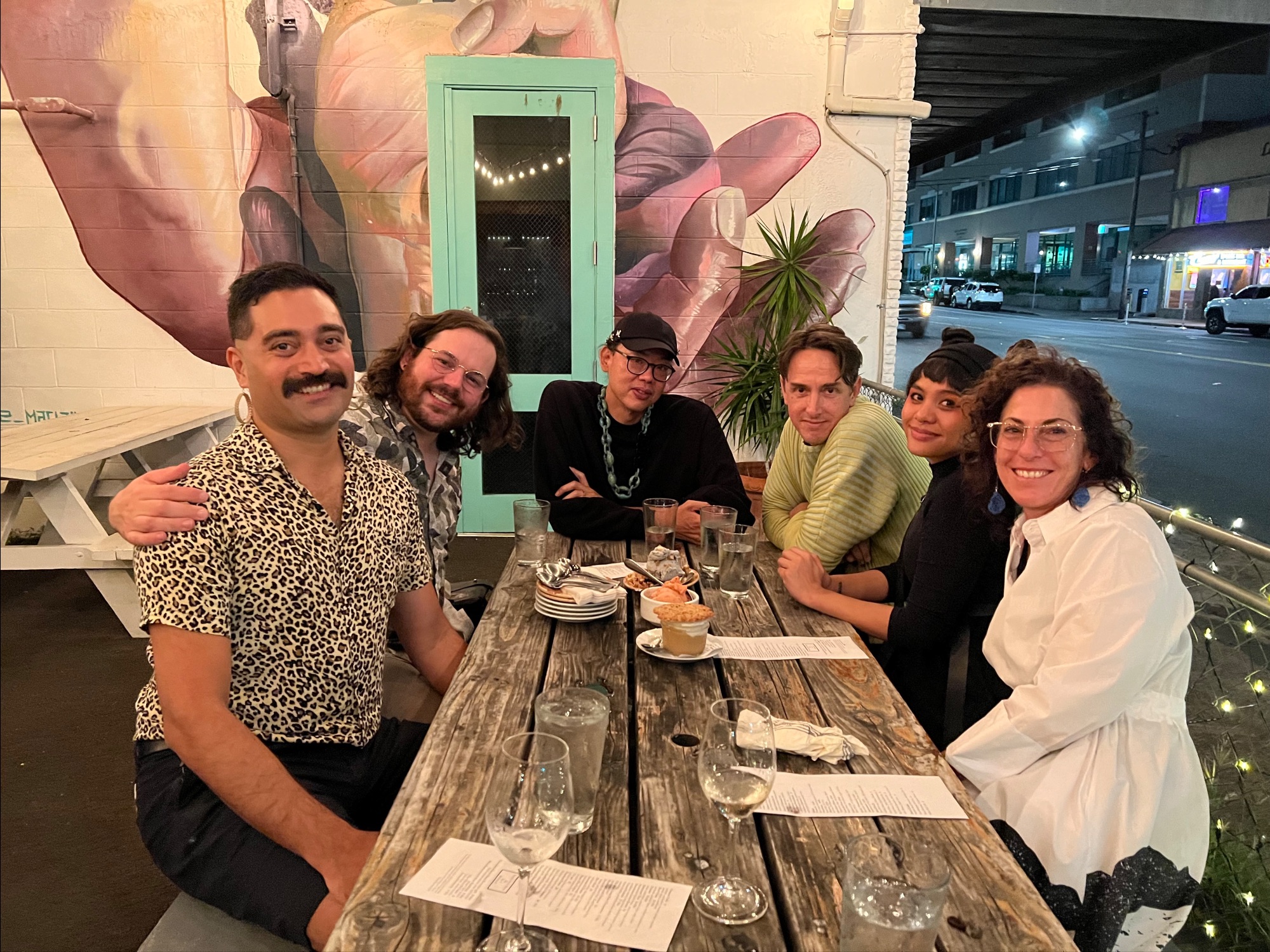 Léuli, Dane, Aaron, Donnie, Juvana and Jaimey; dessert at Mud Hen Water
On January 31st, to close the residency, Léuli shared Aupuni Space with fellow artists and
afiafi
collaborators Kalikopuanehoaokalani Aiu and Hercules Goss-Kuehn. Léuli presented a new version of the performance installation,
tangata a nuʻu poʻo tangata a fanguʻu
(2022)—literally ʻpeople of the villages or people of bottled oil' in Sāmoan—a contemporary faʻamalama (offering to ancestors, spirits and guardian spirits). Subsequently, Kaliko and Herc presented
Light Inside Your Body Warms Mine
, a series of two solos and a duo contact improvisation—the movement, choreography, and improvisational scores of which illuminated the diaspora of transqueer islanders returning to sites of home.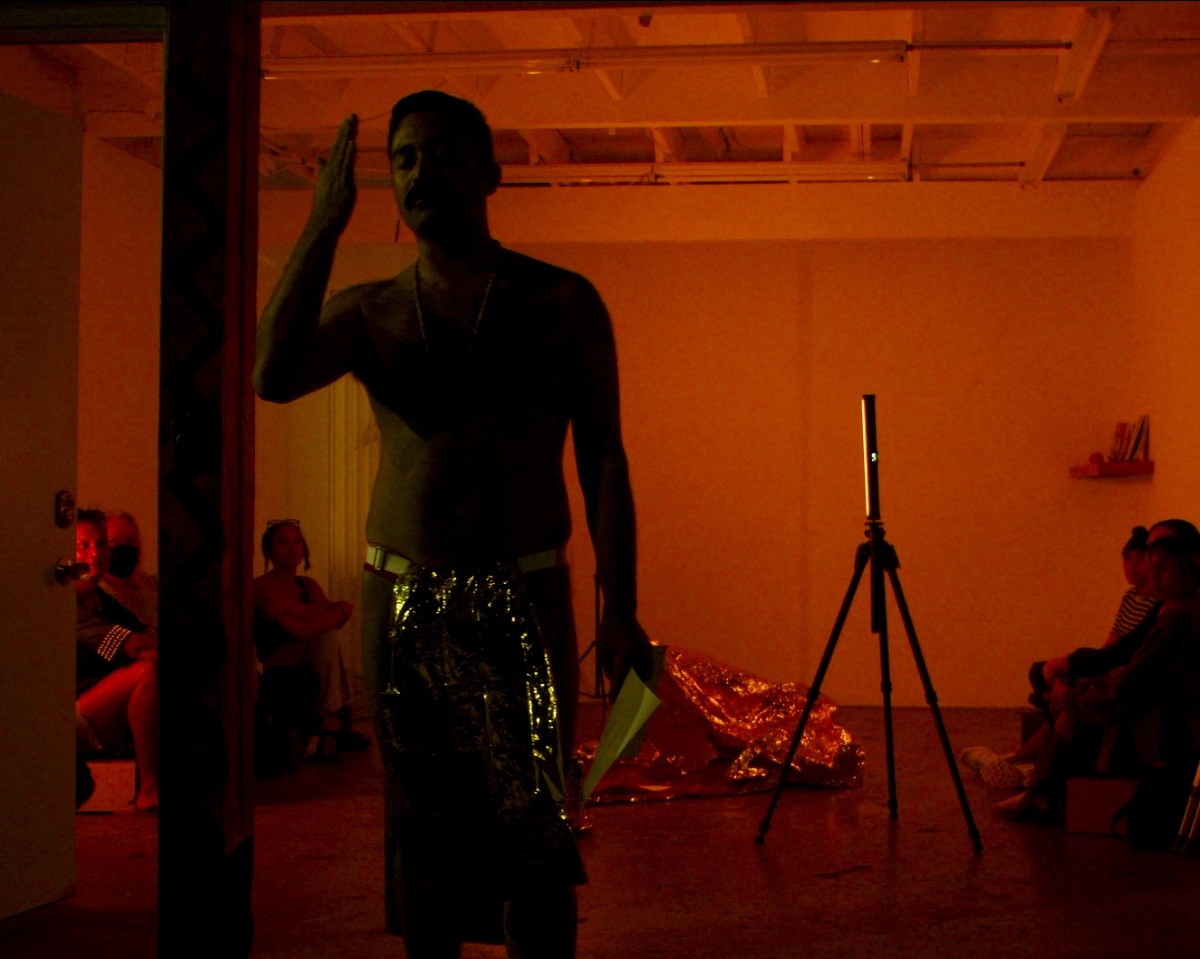 Léuli performs
tangata a nuʻu poʻo tangata a fanguʻu
(2022) at Aupuni Space
Kaliko and Hercules perform
Light Inside Your Body Warms Mine
at Aupuni Space
Excerpts of
afiafi
premiered at MoMAʻs Doc Fortnight in New York, as part of
i nā kiʻi ma mua, nā kiʻi ma hope
—A Screening Program from Hawai'i curated by kekahi wahi. Afiafi is currently presented in its full installation form in
The National 4: Australian Art Now
at Museum of Contemporary Art Sydney from March 30 – July 9, 2023; and opens next month a
Interfacial Intimacies
at Plimsoll Gallery, University of Tasmania in Hobart from June 8 – August 5, 2023. We very much look forward to welcoming Léuli back to these shores, to share
afiafi
with our Hawai'i community later this year!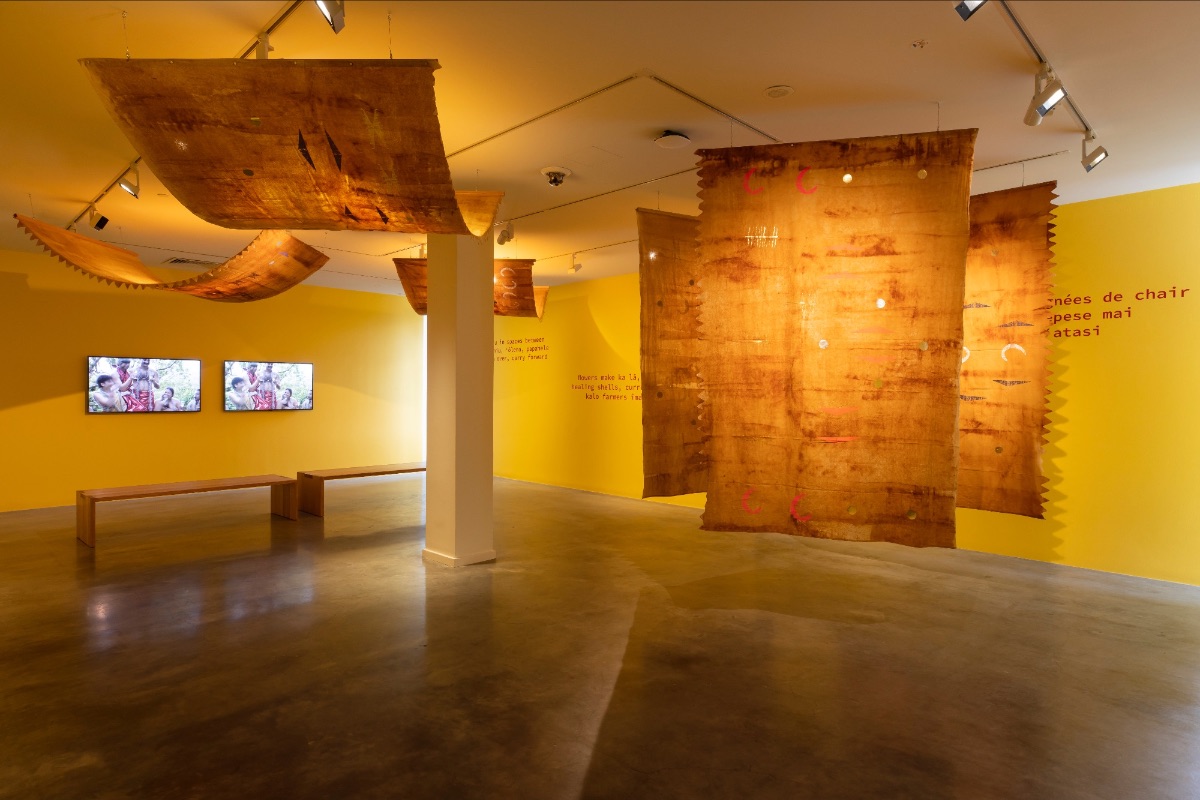 afiafi
, 2023 installed at
Museum of Contemporary Art Sydney
photo credit: Anna Kucera
Join us in the present, Hawai'i nei—as we ramp up our programming this year, thanks in large part to the generosity of the Ruth Foundation For the Arts. We're extremely excited to host back-to-back residencies this summer. First, welcome Claudia Kogachi, a painter and fibers artist currently based in Tāmaki Makaurau, Auckland Aotearoa. Kogachi has matrilineal roots in Hawai'i—her family emigrated from Japan and Okinawa four generations ago and her Obaachan (grandmother) resides in Wahiawa. Claudia studied alongside many of our Aupuni Space contemporaries while at UH Mānoa for one year as an exchange student, and counts that time as hugely important to her practice. She eagerly returns to reconnect with the group of artists she came up with and to encounter fresh faces.
Claudia working in studio.
Photo credit: Rob Tennent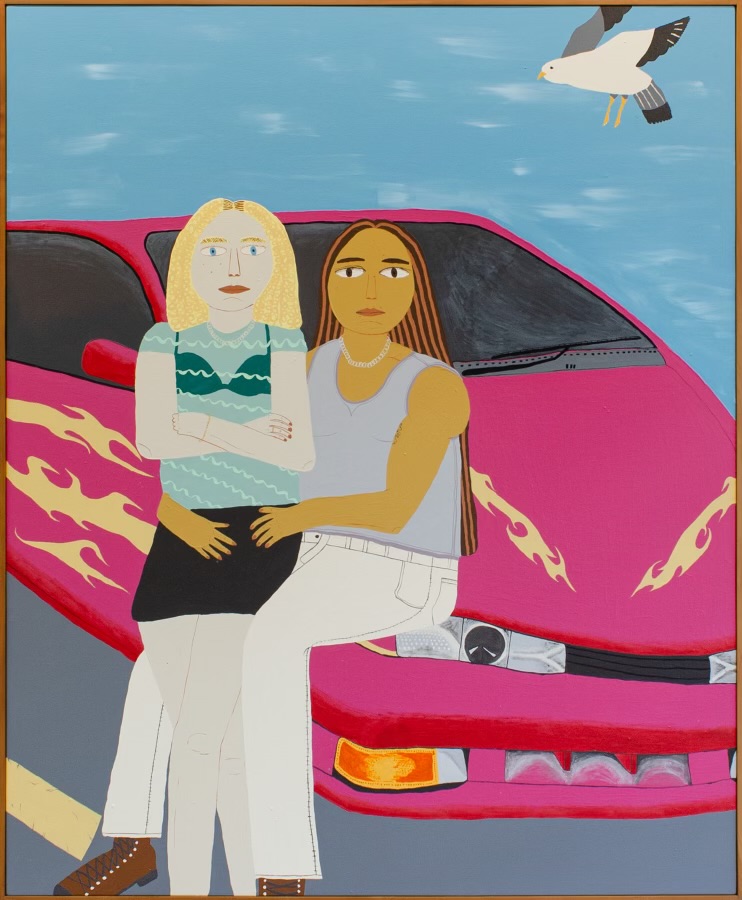 THE FAST AND THE FURIOUS,
2022, acrylic on canvas
Obaachan and Jiichan Babysitting, 2022 acrylic on canvas
Speaking to Claudia's 2020 installation,
Obaachan During the Lockdown at Te Tuhi
, Tāmaki Makauarau Auckland, curator Abby Cunnane writes, "This work registers a relationship between social exchange, attentiveness, and physical labour. While both Kogachi and her obaachan are frequently preoccupied with practical tasks, in these rugs such work could be read as a form of familial contact, a way of staying in touch across distance. Each of the panels represents an activity that takes up a significant amount of the time they spend together. As an artist, Kogachi shares her obaachan's hand-making skills, attention to detail, and the capacity to concentrate for long periods of time. Though they make very different things, there is a connection in the repetitive gestures, and in the basic understanding that through making, you build and sustain relationships."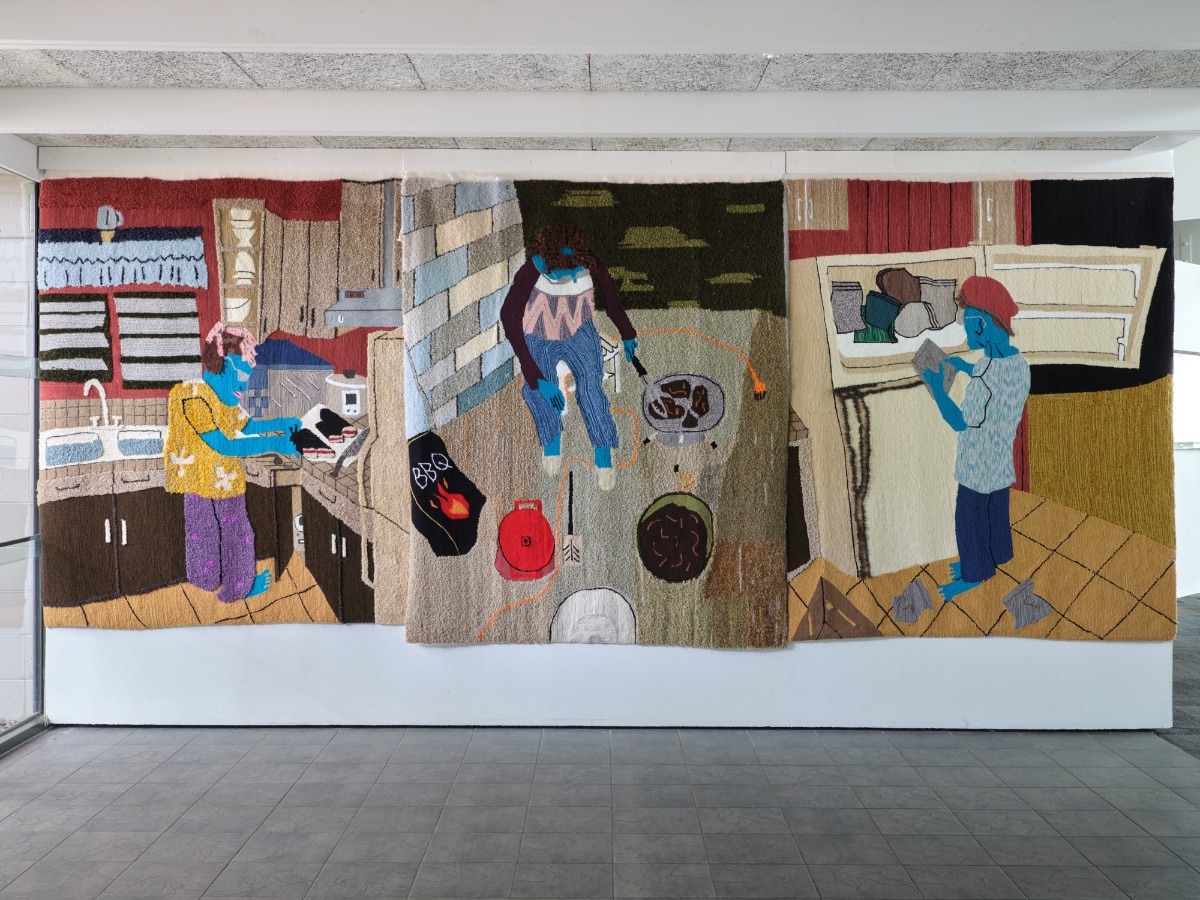 Obaachan during the lockdown, Wahiawā, Hawaiʻi, 2020 (installation view)
tufted rugs, commissioned by
Te Tuhi, Tāmaki Makaurau Auckland
photo by Sam Hartnett
Recently featured at Aotearoa Art Fair, she presented a group of woven pieces alongside paintings with carved and polished walnut frames, handmade by her partner. Claudia showed two of her earlier "rug" last year in a group exhibition at Aupuni Space curated by Cody Anderson. Over the next six weeks, while strengthening connections to our local artists' community and meeting with freshly graduated BFAs at UH Mānoa, she'll focus in studio on a group of paintings returning to themes relating to her family's local history in Hawai'i that we'll proudly present at
Aupuni Space
on June 30, 2023. Mahalo to UH Mānoa Art and Art History for the studio space and opportunity for outreach.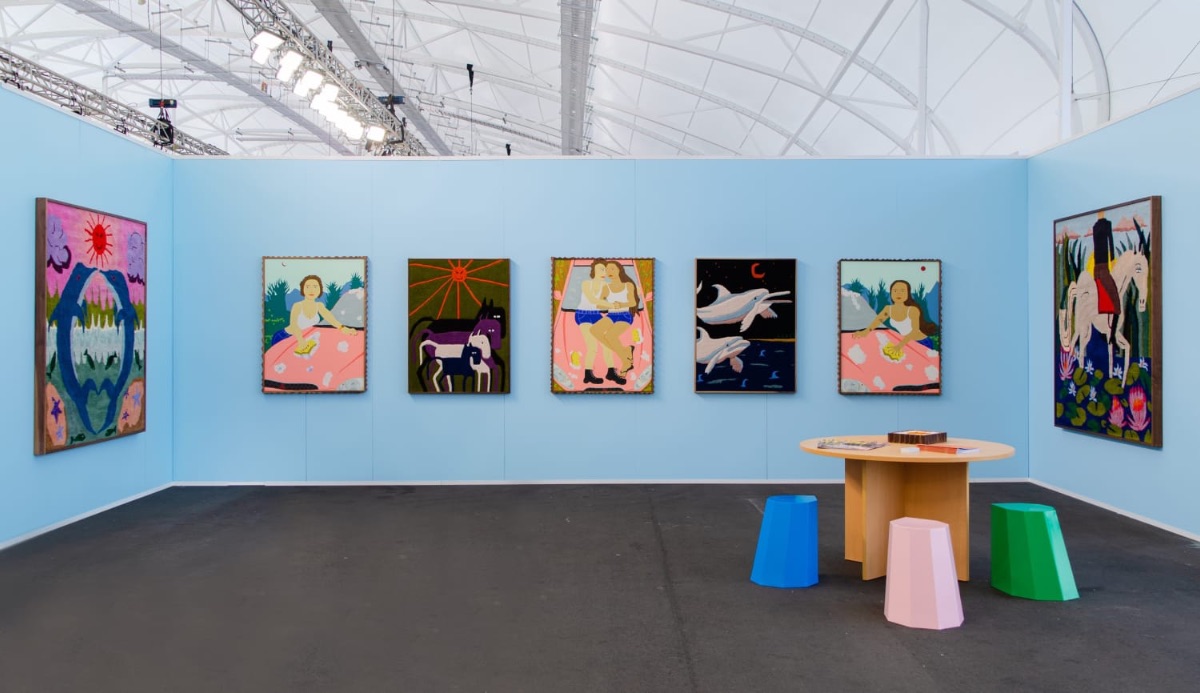 Sweet Sweet Fantasy Baby, 2023, installation for Aotearoa Art Fair with
Jhana Millers Gallery
photo by Cheska Brown
Hoʻomaikaʻi piha to our alum, collaborator, and ally Tiare Ribeaux for earning her Masters of Fine Arts at U.C.Berkeley this month!. All the while completing two TRADES residencies, two film projects, multiple festival appearances, and still showing up strong for community in the meantime. Big congrats to you sister!
Tiare Ribeaux at University California Berkeley
Photo credit: Jody Stillwater
As always we are incredibly gratified by your interest and support—you sustain our efforts. We are especially appreciative of the transformative generosity of the Laila Twigg-Smith Art Fund and the Ruth Foundation For the Arts—Mahalo, mahalo, mahalo.
With your support, since Fall 2017, TRADES has hosted 19 Artists from USA, Sāmoa, the Philippines, Korea, Germany and Brazil: connecting them with 36 community partners via student engagements, research opportunities, site visits, screenings, lectures and exhibitions. What we do is possible thanks to your generosity and your trust.
We wish to gratefully acknowledge the generous support of the Ruth Foundation for the Arts, the Laila Twigg-Smith Art Fund, and UH Mānoa Department of Art and History as well as the following:
Susan and Glenn Shea
kekahi wahi
Dane Brookes
Drew Kahuʻāina Broderick
Sancia Shiba Miala Nash
Maile Meyer
Puʻuhonua Society
Reise Kochi
Lise Michelle
Kalikopuanoheaokalani Aiu
Hercules Goss-Kuehn
Mele Hamasaki
Debra Drexler
Lynne Mayekawa
Juvana Soliven
Ryan and Jody Peterson
Jaimey Hamilton Faris
Laura Wexler
Catherine Payne
Cynthia Cervantes
Angeli (Anjie) Aquino
Amber Strong Makaiau
Madi
Nanea Lum
Josh Tengan
Marika Emi
Daniel Croix
Vincent Bercasio
A.L. Steiner
Cody Anderson