In The Trades... Spring 2018


April 4th, 2018
Honolulu, Oʻahu Hawaiʻi


Aloha from TRADES A.i.R. We are excited to share with you highlights from Michael Wang's extremely productive February visit and to introduce our upcoming artist Eve Fowler.

While in residence with TRADES, Michael continued his "Extinct in the Wild" project; traveling between O'ahu, Kaua'i, and Hawai'i Island to research several species of plants, tree snails, and the 'Alalā (Hawaiian Crow). Local experts—at the O'ahu Army Natural Resources Program; Hawaiian Rare Plant Program at Lyon Arboretum; Hui Kū Maoli Ola; Hawai'i Snail Extinction Prevention Program; and Keahou Bird Center—generously welcomed Michael and shared their work with him.

Michael spent days up mauka learning about native forests from botanical experts and cultural practitioners; and counting endangered tree snails in "snail jail" exclosures. And he shared his findings with keiki to kupuna. Michael planted an Alula (Brighamia insignis) specimen with Kipapa Elementary 3rd graders who will continue to care for it. He visited middle-schoolers at SEEQS (School for Examining Essential Questions of Sustainability) twice—first learning about their on-campus stream conservation efforts and then teaching them about his project. At UH Mānoa, he shared his systems-based approach to art-making with undergraduate and graduate art students. Michael's residency culminated with a public panel at fishcake, where he discussed his Hawai'i findings and the connections between environmental and cultural stewardship with Dr. Helen Turner of Chaminade University; and Dr. Sam 'Ohu Gon of The Nature Conservancy.

We look forward to having Michael back in Hawai'i to continue his research as we explore exhibition opportunities for "Extinct in the Wild."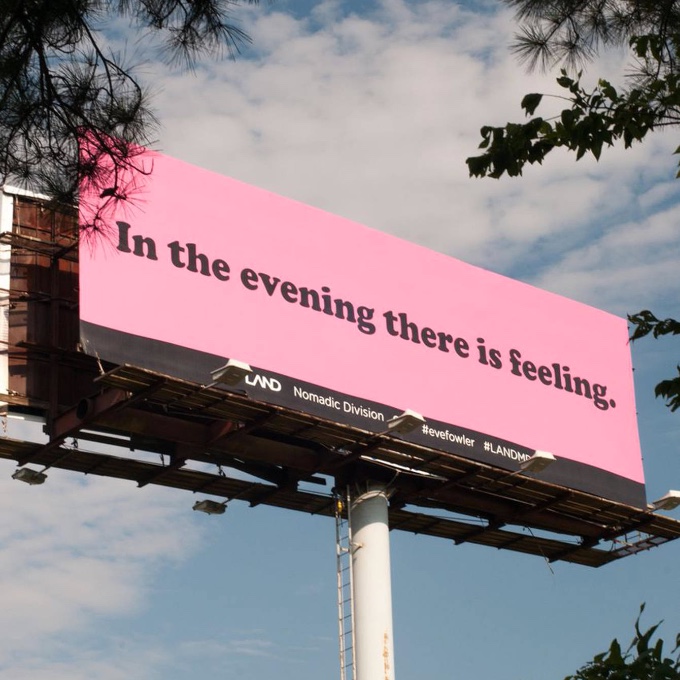 from "IT IS SO, IT IS SO", Houston, TX, 2014; LAND Manifest Destiny Billboard Project

NOW, Looking forward! Eve Fowler will be joining us on April 14th. Having exhibited widely in the U.S. throughout her career, Fowler's work is included in the collections of The Los Angeles County Museum of Art; The Hammer Museum, Los Angeles; The Museum of Modern Art, New York; The Museum of Modern Art, San Fransisco; and The Smithsonian Institute, Washington, D.C.
In her own words: "My creative practice hinges on a form of collaboration that has bearing witness at its core. This is manifested through my decades of photographic practice, and through my ongoing work with fellow artists, filmmakers, writers and curators under the rubric of Artist Curated Projects. It is evident in my sustained engagement with the creative work of Gertrude Stein; and it is the motivation behind my archival investigations that bring historically marginalized forms of practice into contemporary conversation."




Since 2010, Fowler's work has centered on excerpting, interacting, and re-presenting the poetry of Stein in arresting visual forms. Originally conceived as posters printed by historic Colby Poster Printing Company and affixed to telephone poles amongst other similar signage and blending into the L.A. visual vernacular, Fowler has since realized the work as freeway billboards, bus shelter advertisements, paintings, neon signs, collage, and sculpture; giving the Stein texts further breadth and dimension. Writer Litia Perta comments: "across a distance of nearly a century, Fowler's work literally commingles with Stein's: gets close to it, pulls strands out, knits phrases back in, asks us to be near it, to think toward it."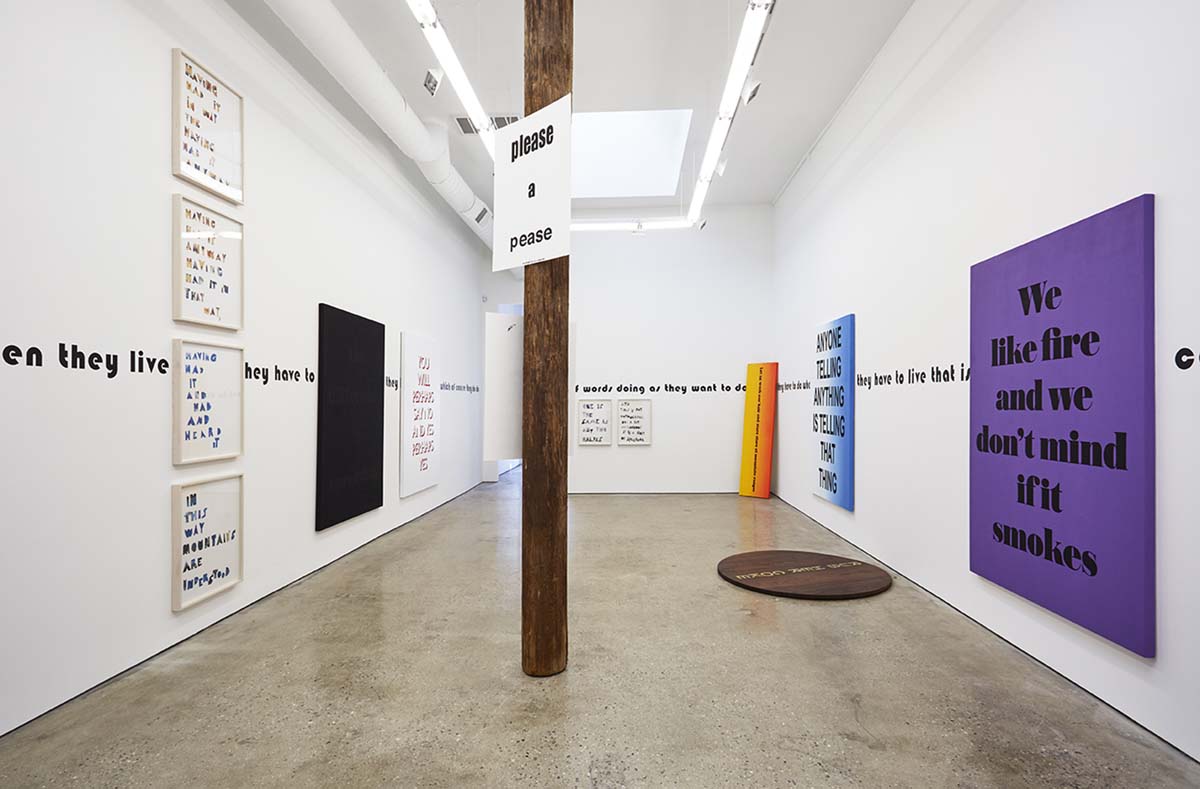 On O'ahu, Eve will conduct studio visits with local emerging and established artists of exceptional talent for inclusion in an "Artist Curated Projects" exhibition here. She will spend time working in the studio, preparing works for upcoming exhibitions. We are organizing a public screening of her 16mm film "with it which it as it if it is to be", as well as a Gertrude Stein focused event with creative writing and poetry professor Dr. Susan Schultz. Eve will also speak to Art and Art History students with Jaimey Hamilton Faris at UH Mānoa. TRADES is also working on a Public Art component of Eve Fowler's work here in Hawai'i.

We hope many of you will take the opportunity to interact with Eve while she's in residence at TRADES, stay tuned for further details.


"with it which it as it if it is to be", 2016, 16mm film with sound. Installed at Participant, New York City

What we do is only possible because of your generosity. Your contribution will have a direct and lasting impact on on our programs as well as on local artists and art enthusiasts in Hawai'i. A sponsored project of Fractured Atlas, donations to TRADES A.i.R. are tax deductible to the extent permitted by law.


TRADES wishes to gratefully acknowledge the support of the Atherton Family Foundation, University of Hawai'i at Mānoa Department of Art and Art History, as well as our base of private donors and supporters.