Together ︎ 2023


January 3, 2023
Honolulu, Oʻahu Hawaiʻi

Aloha TRADES 'Ohana–

We wish you the warmth of the season and a bright New Year! 2022 continued to be a time of introspection and transition for us, as we focused on sustaining our local communities via Aupuni Space and preparing to re-welcome continental and international artists in residence for the coming year. We are now eager to reemerge in earnest—reconnecting local artists and audiences through our global outreach and introducing off-shore artists to Hawai'i once again.

We are so happy to update you on what has transpired in the interim; and look forward to your support and engagement with our next A.i.R.s.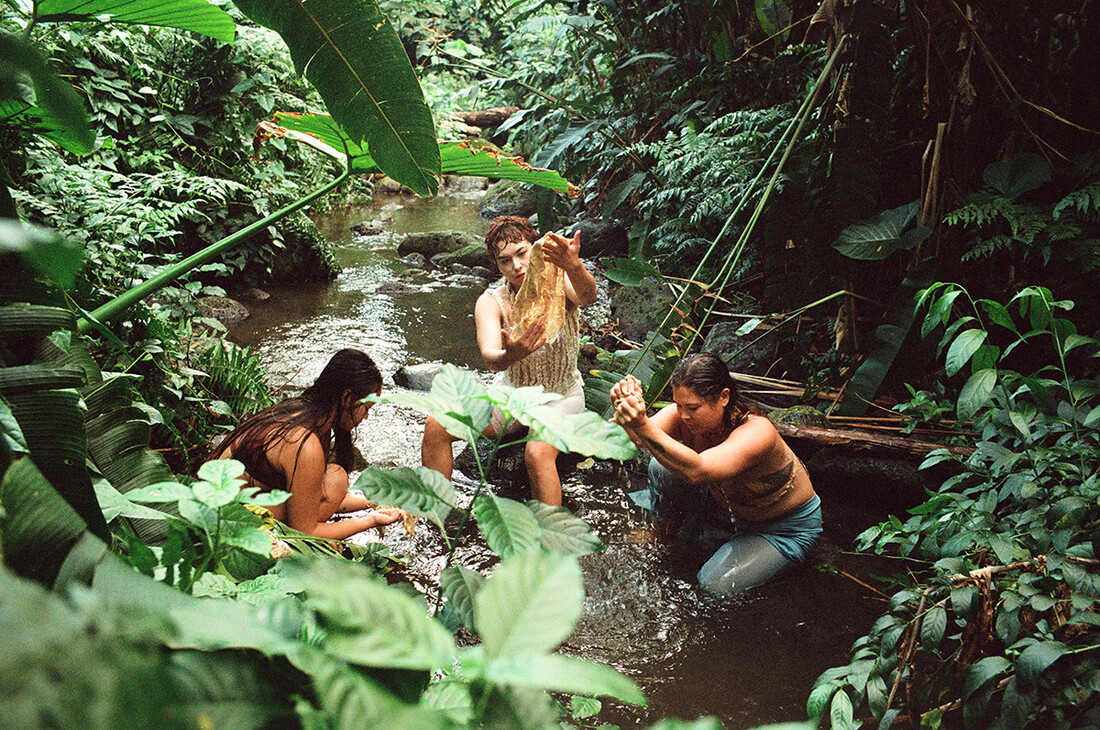 Lise Michelle, Kalikopuanoheaokalani Aiu, and Nanea Lum in

ULU KUPU

. photo credit: Jason Chu


We last left off with Kanaka Maoli artist Tiare Ribeaux. In concert with the UH Admiral Residency in Contemporary Pacific Art, TRADES first welcomed them in November of 2021. GRICC Contemporary (UH Mānoa) partnered to host a series of workshops—Kō Kākou Manawa— facilitated by Tiare and Kanaka artist Nanea Lum to co-vision multimedia projects to uplift Hawaiian culture and narratives. Tiare returned for February and March of this year to complete a new video work, and to curate and install a multi-site exhibition, ULU KUPU; featuring works made with, and by, workshop participants. Funded in part by the Citizen Diplomacy Action Fund—U.S. Department of State, Ulu Kupu spanned Aupuni Space and Hawaii State Art Museum POD and emphasized the sacredness of Wai (water). For "Ola i ka wai"—water is life. These themes were further explored and developed by Tiare as a 2022 Native Labs Fellow at Sundance Institute. To finish off an incredibly productive 2022, Ribeaux's new short –Pō'ele Wai —premiered at the Hawai'i International Film Festival in November.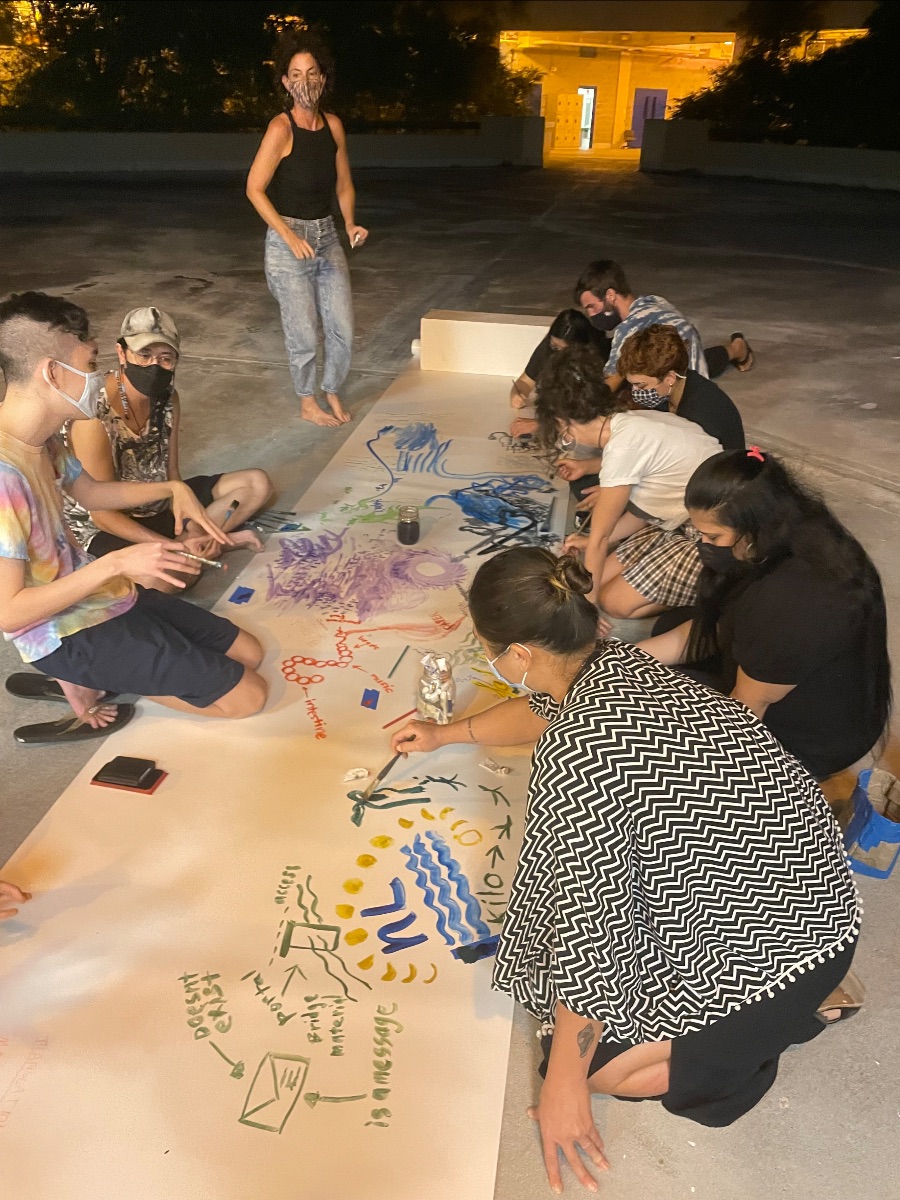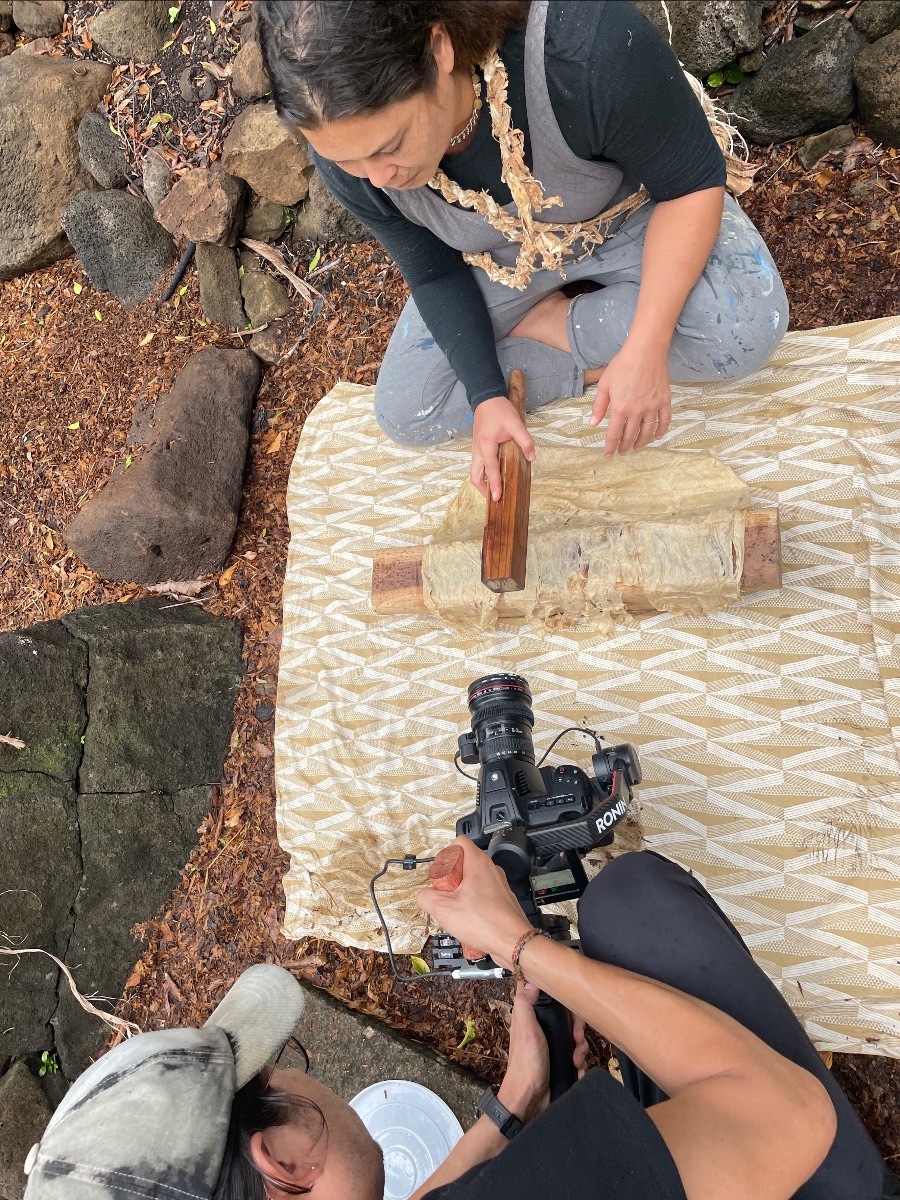 While we are giving lei— we'd like to congratulate several of our former A.i.R.s on their exceptional achievements. First, Sung Hwan Kim (with musical collaborator David Michael DiGregorio) for his Hawai'i-made film Hair is a piece of head which has been shown—in various installation formats alongside his drawings and sculptures—at the 13th Gwangju Biennale; Busan Biennale 2022; and Hawai'i Triennial 2022. Mahalo to Sung Hwan and David for inviting several of our Hawai'i cohort to Seoul to attend Sung Hwan's Barakat Contemporary exhibition Night Crazing and David's concert Read Aloud Lyrics, as well as the opening of the Busan Biennale. We are delighted that David and Sung Hwan are now both New York and Honolulu based artists.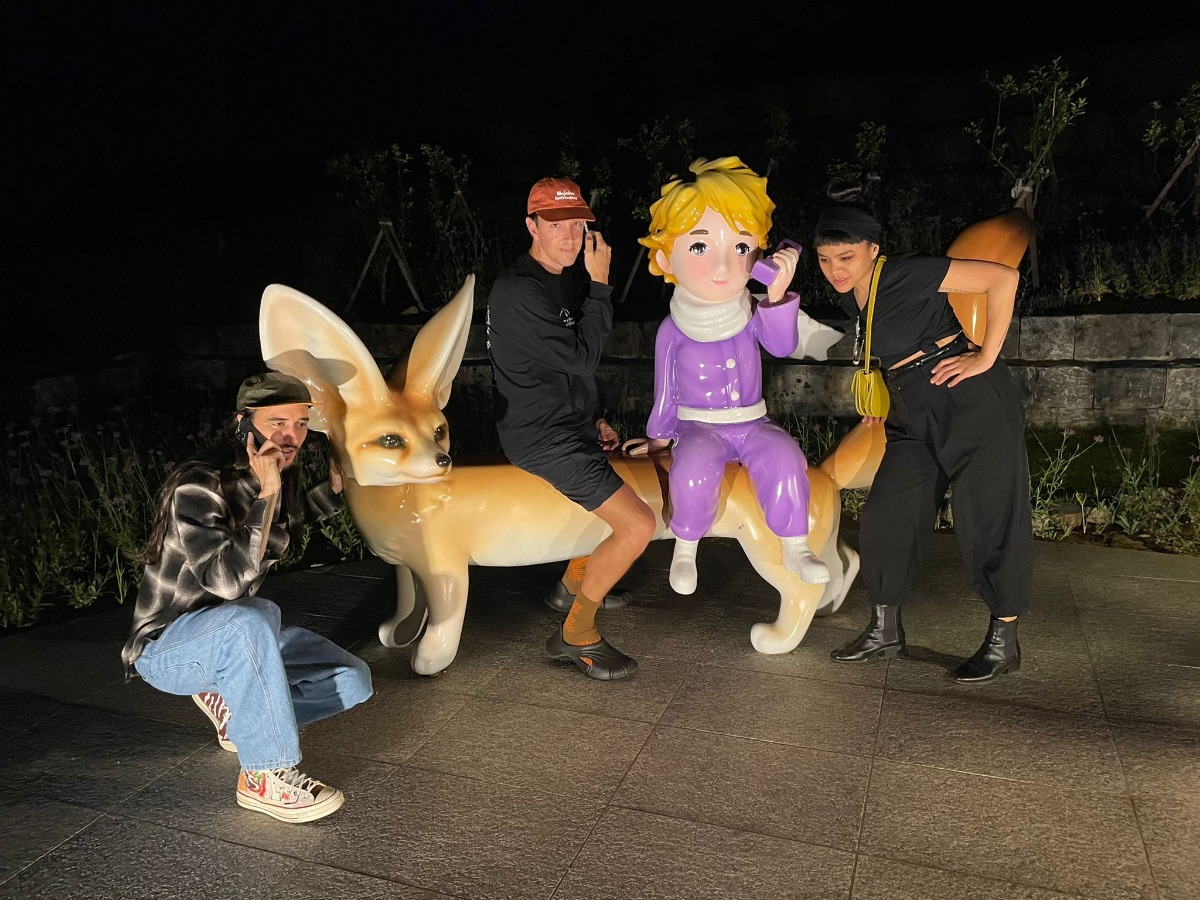 Drew Kahuʻāina Broderick, Donnie Cervantes, Juvana Soliven with Binna Choi on
Purple Island
.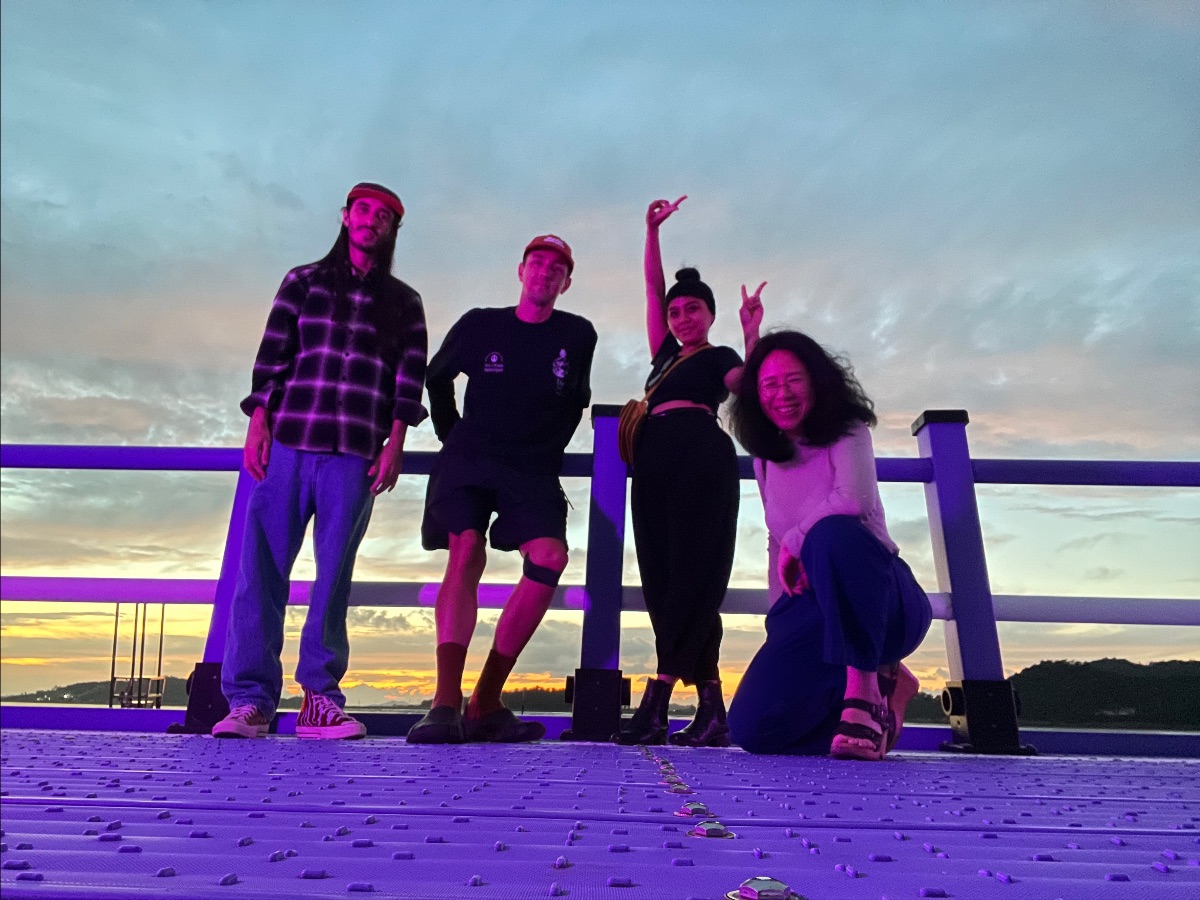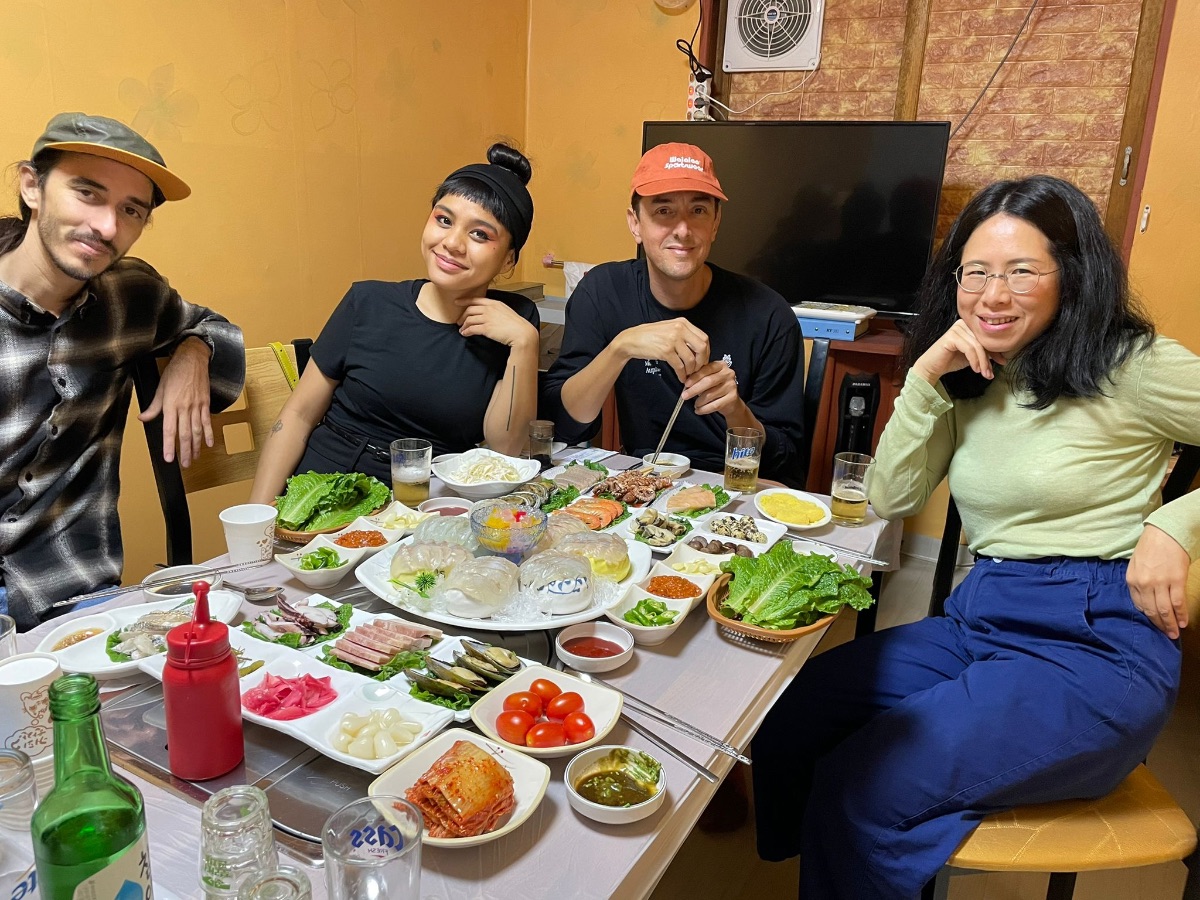 A special mahalo to curator Binna Choi for her consummate hospitality on our side trip to Shinan Islands in the South Jeolla Province of Korea.
Congratulations to Eve Fowler for literally becoming part of the Los Angeles landscape: with work featured on West Hollywood's 67 ft tall Sunset Spectacular digital billboard— part of ONE Archives' yearlong public art presentation showcasing queer artists. And at
LAX's Terminal 2
, where Eve's
A Universal Shudder
consists of four site-specific murals—with texts, excerpted from Gertrude Stein, that invite speculative interpretation.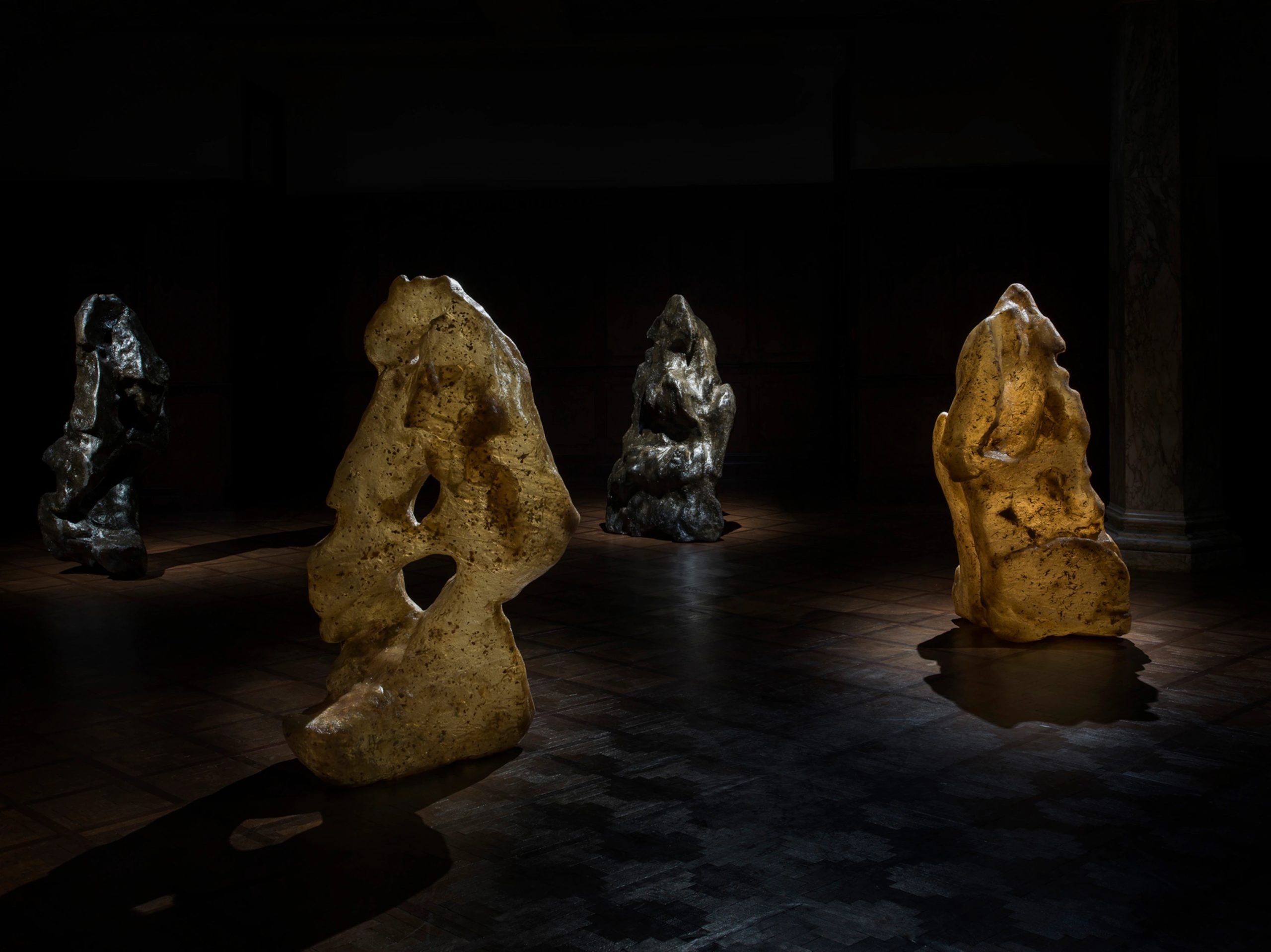 Michael Wang
Lake Tai
, 2022 installation view; Prada Rong Zhai
Finally to Michael Wang for his installation
Lake Tai at Prada Rong Zhai
, a 1918 historic residence in Shanghai.
Lake Tai
is another example of Michael's sensitivity and his ability to encapsulate historical and environmental narratives in evocative succinct forms—which in this case include traditional scholar's stones reconceived in material sequestering toxic algae.
A lei of our own—we are thrilled to share that we are one of the inaugural recipients of the
Ruth Foundation for the Arts Core Grant
. In its short 6 month tenure, Ruth Arts has magnanimously awarded over 140 nonprofit arts and cultural organizations nationwide $11.75 million in grants. We are honored to be amongst such distinguished company, and especially gratified that the opportunity arose from an artists' nomination process. We congratulate our friends and collaborators at Pu'uhonua Society on their own Core Grant.
We are likewise pleased to announce the generous support of the Laila Twigg-Smith Art Fund. The Laila grant will go directly towards the visit of our next A.i.R. Léuli Eshrāgi, whom we are hosting in January and May of 2023 in conjunction with Aupuni Space.
In addition to these philanthropic stalwarts, we are equally grateful to our coterie of dedicated donors and supporters who offer their time, interest, and financial resources in aid of our cause. Mahalo. Mahalo. Mahalo.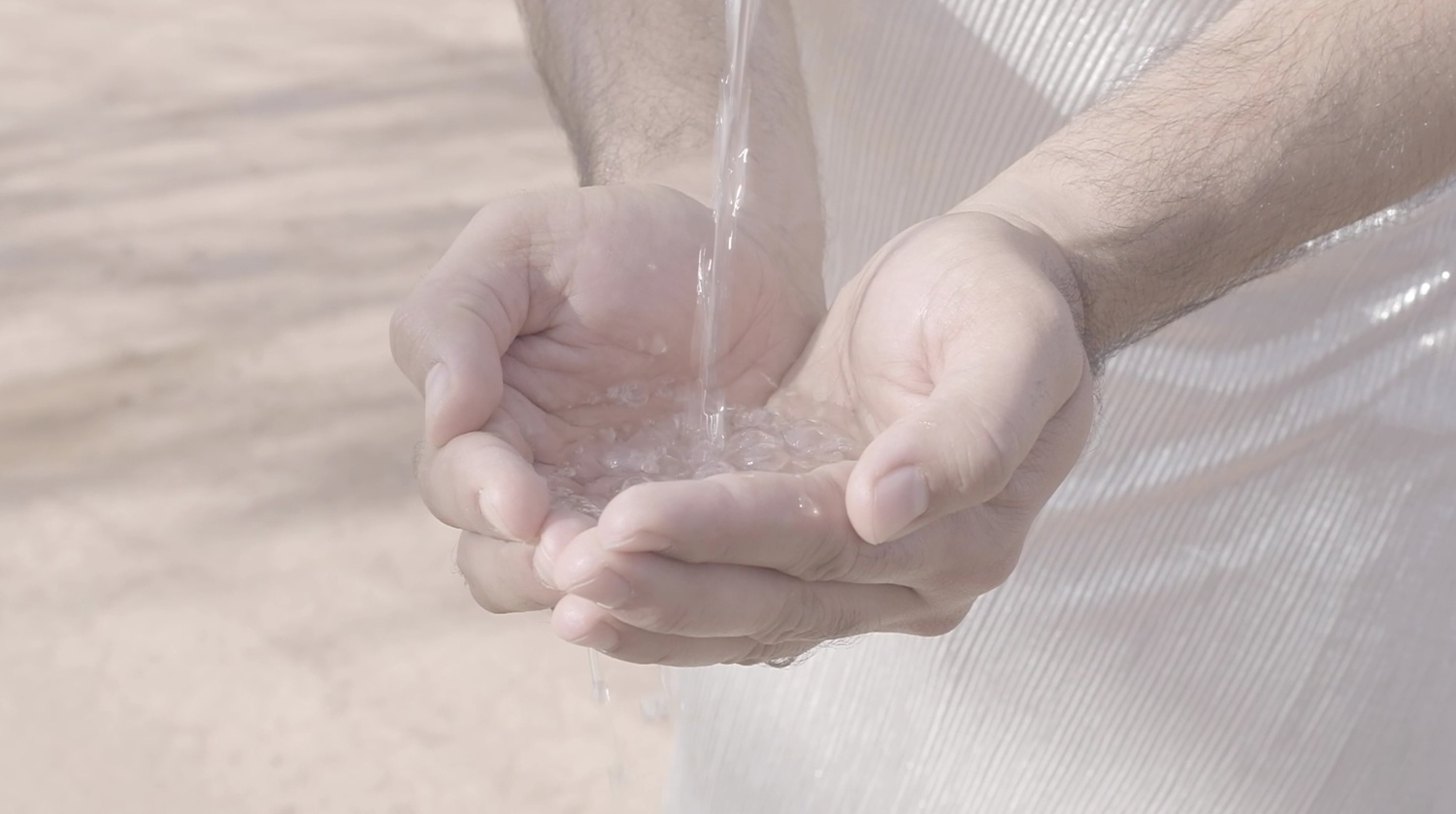 Léuli Eshrāghi,
AOAULI
, 2020 (detail)
Onwards. Thanks to Laila, here's Léuli.
Léuli Eshrāgi
(Sāmoan / Persian / Cantonese) works across visual arts, curatorial practice and university research to center Indigenous kin constellations, sensual and spoken languages, and ceremonial practices.
In Hawaiʻi, Eshrāghi will collaborate with Kānaka 'Õiwi and Hawai'i-based poets and artists to conceive their performance, moving image, writing and installation project
afiafi
. Meaning day, afternoon and fire in Sāmoan,
afiafi
affirms and situates non-colonial temporality where sensuality, pleasure, sexuality, joy, and spirituality are deeply embraced. Building from research of European colonialist collections of barkcloth obtained from the Sāmoan archipelago in the 1700-1900s, and photographic archives of Indigenous ancestors;
afiafi
addresses intersecting crises affecting Indigenous, non-binary and queer bodies inhabiting the rising Great Ocean.
We look forward to watching
afiafi
take shape; and invite you to join us in observing or participating in the process.
Léuli Eshrāghi,
AOAULI
, 2020 (detail)
With your support, since Fall 2017, TRADES has hosted 18 Artists from USA, the Philippines, Korea, Germany and Brazil: connecting them with 36 community partners via student engagements, research opportunities, site visits, screenings, lectures and exhibitions. What we do is possible thanks to your generosity and your trust.
We wish to gratefully acknowledge the support of the Ruth Foundation for the Arts, and the Laila Twigg-Smith Art Fund as well as the following:
Maika Pollack
Jaimey Hamilton Faris
Esteban Arboleda
David Haskell
Solomon Enos
Nanea Lum
Josh Tengan
Lynette Cervantes
Joanne Lee
Elise VonDohlen
Sean Connelly
Ryan and Jody Peterson
Susan and Glenn Shea
Maile Meyer
Puʻuhonua Society
Kalikopuanoheaokalani Aiu
Jason Chu
Reise Kochi
Lise Michelle
Waikapu
Drew Kahuʻāina Broderick
Koa Gallery