Spring 2019 FYI

April 18th, 2019
Honolulu, Oʻahu Hawaiʻi


Aloha from TRADES A.i.R! Weʻve got a lot of news so let's get started in present day O'ahu:

Brazilian filmmaker Filipe Zapelini is currently in residence with TRADES working on a film about local record label Aloha Got Soul. This residency arose from our ongoing collaboration with local artists Roger and Leimomi Bong (aka Aloha Got Soul and/or Central Pacific Time.) A documentary project begun spontaneously in December 2016 by 3 filmmakers from Brazil (Pedro Ramos, Pedru Carvalho, and New York-based Zapelini), the film explores their interest in the genres Aloha Got Soul highlights—70's and 80's Hawai'i-made funk and soul.

Roger proposed bringing Filipe Zapelini back to Hawai'i as a TRADES resident to complete filming—adding missing narratives and rounding out the story. A labor of love between all participants, thus far the project had progressed without outside support or funding. We felt this was an ideal opportunity to support our local community by furthering the production through Filipe's residency. In Roger's words, the documentary "will make the world aware of the diversity of music made and still being made in Hawai'i, and in ways that can't be expressed … in words. A lot of the story is going to revolve around the musicians, their experiences, and ultimately, their life's purpose. It talks about life, spirit, aloha, and it talks about the music, too." (Halekulani Living, Vol. 9-1)




Please join us Friday April 26th at 6 p.m. when we'll gather at Aupuni Space to talk story with founder Roger Bong, filmmaker Filipe Zapelini, local music writer John Berger, and musician/producer Kit Ebersbach; enjoy live music by featured artists and check out an updated trailer.

Next we're headed back to November 2018, when we spent an amazing month with Lena Daly. Lena's work focuses on the limits of human perception, at what lies just beyond our hearing and vision. On O'ahu, she investigated marine fluorescence: capturing hydrophonic recordings by day and taking ultraviolet reef dives by night. She met with scientists at UH Mānoa and the Hawaiʻi Institute of Marine Biologyto learn about visual system evolution, bioluminescence, and coral fluorescence. A highlight was creating images of live coral with the use of a confocal microscope, observing the tissues fluoresce under UV lasers.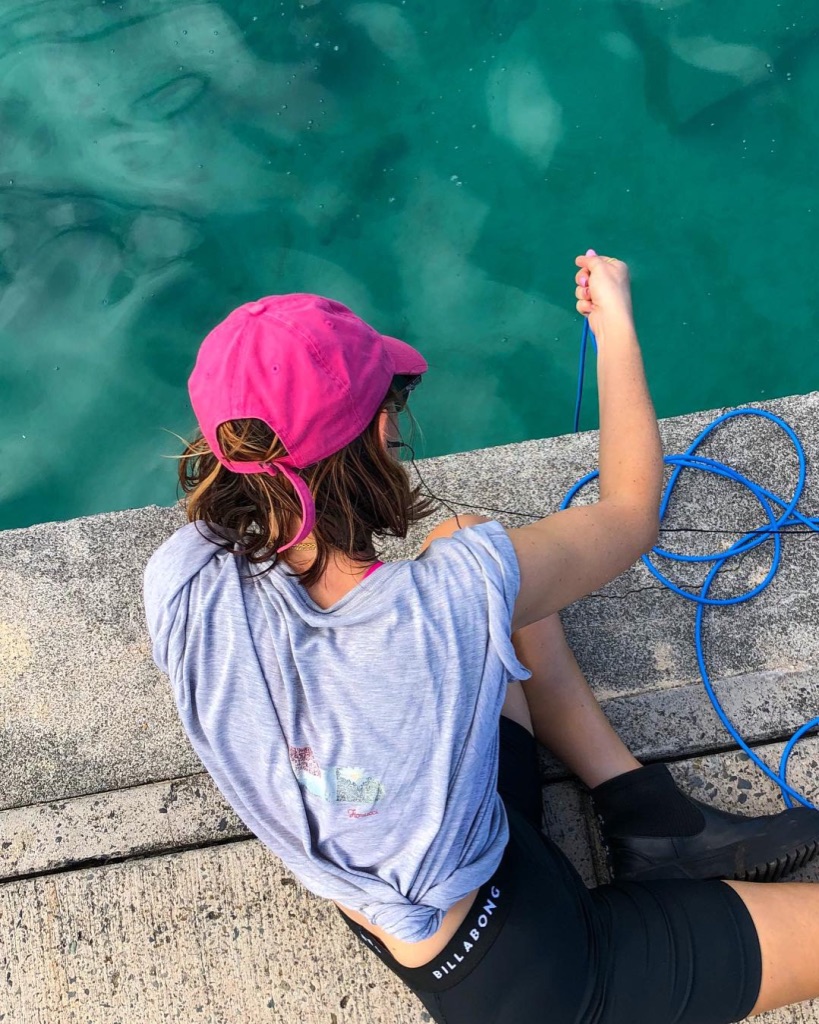 Lena engaged deeply with our local communities—with two visits to work with middle school students at SEEQS (School for Examining Essential Questions of Sustainability); conducting studio visits with a handful of local artists; and recording a radio program with Central Pacific Time. Lena intersected with our arts community at events at HoMa, HiSAM, Honolulu Biennial Foundation, Honolulu Printmakers, the Merwin Conservancy, and HIFF.

Her visit culminated with an installation at Aupuni Space—with UV reactive sculptures and two-channel video, including confocal footage of coral and hydrophone audio from the reef. Professor Megan Porter, UH biology; and Mindy Mizobe, confocal microscopy specialist; joined Lena for a conversation connecting art and science, and hypothesizing the origins and uses of various species' visual perception and communication.




Completing our Fall 2018 double bill, Derek G. Larson joined us in December from Savannah, Georgia. Larson shared and expanded upon his animated series Très Mall—which follows Jon, an artist who inherits a strip mall, and his friends, engaged in dialogue with writers on "topics in philosophy, activism and the environment." Très Mall contrasts the mundanity of its setting and the "misplaced ambitions" of its protagonist with philosophic nuance and academic expertise.

Derek's Honolulu residency included a screening of Très Mall, interviews with local thinkers and activists, a public animation workshop with Art Explorium, and of course a visit to Ala Moana Center.




We welcomed our inaugural A.i.R. Amy Yao back to O'ahu, along with future A.i.R. Ei Arakawa, for a holiday reception celebrating their participation in the Honolulu Biennial 2019. Both artists chose to show their work beyond the confines of a traditional exhibition hall: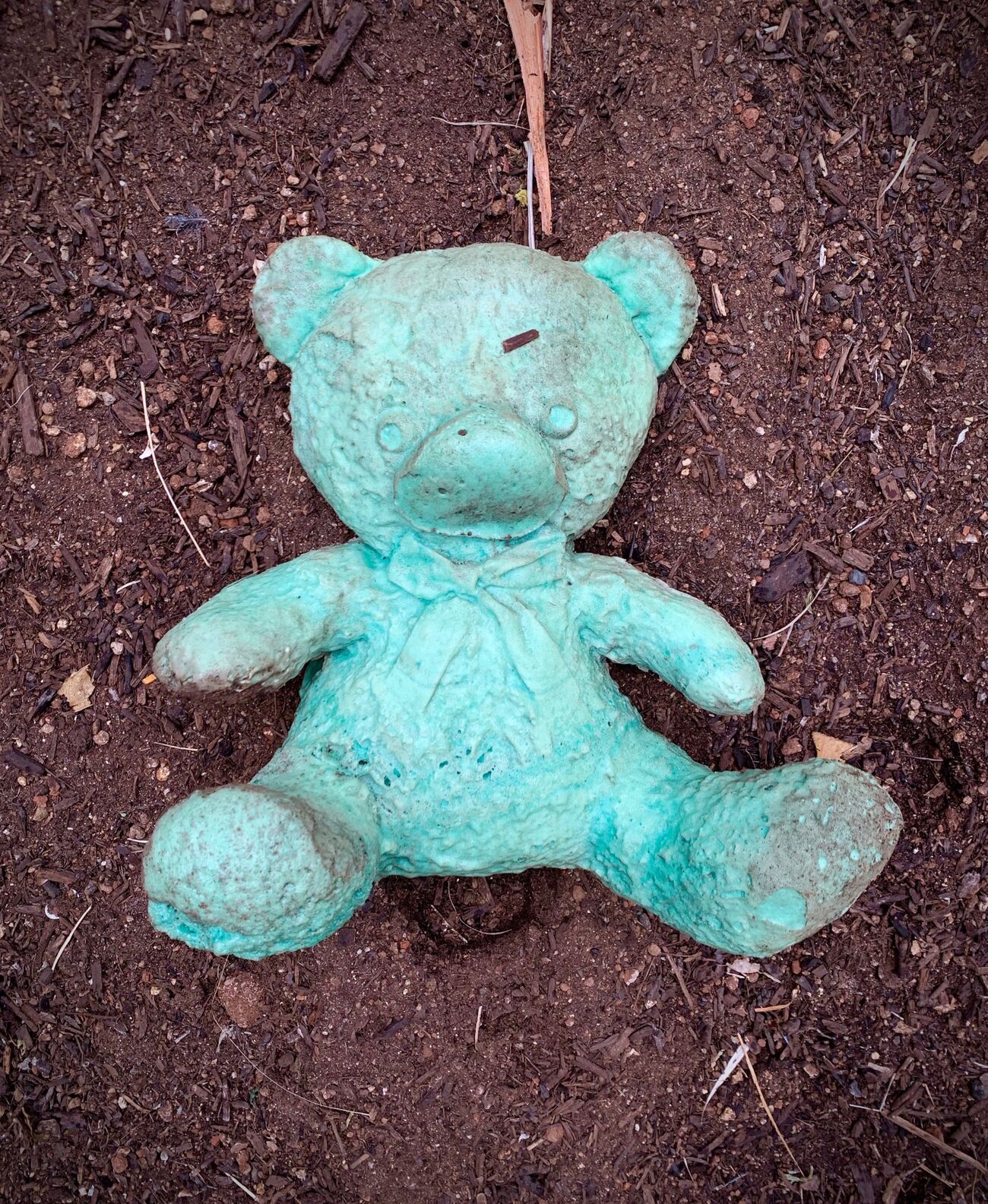 Amy Yao's "Nuanced Outsider" and "The Impossibility of Being Outside" continue her investigation of materials and language linked to the waste-landscape of modernity and xenophobic representations of the natural world. Situated in Foster Botanical Garden and considering its context of botanical research and preservation, Yao's assemblage combines teddy bears made from micro algae; with a dirt pile; and fireweed, a common invasive species. Their planned and unplanned integration into the local ecosystem will proceed over the course of the biennial.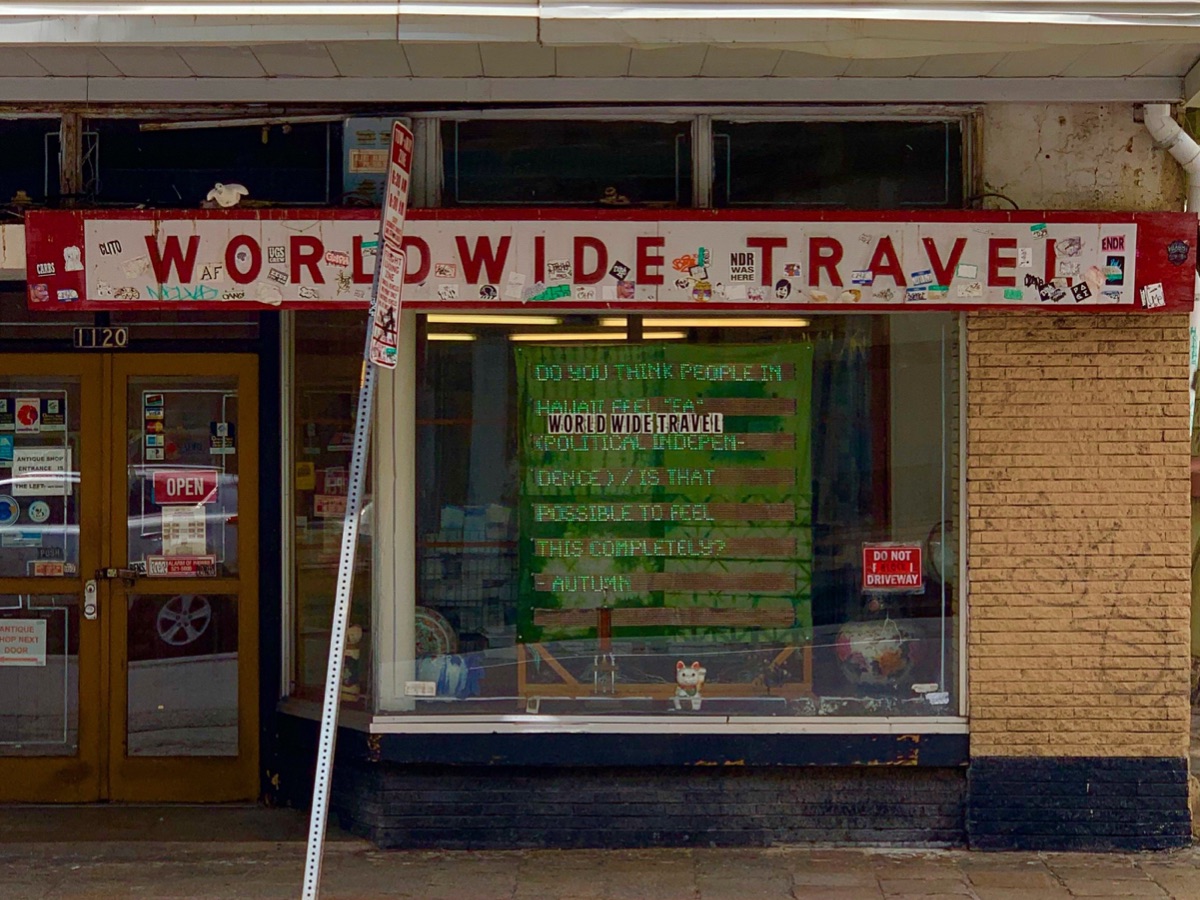 Installed in commercial businesses in Honolulu's Chinatown, Ei Arakawa's three site-specific LED works question the the global proliferation of contemporary art biennials, triennials, and festivals in the twenty-first century. What does it mean for artists to make works for places and contexts that are utterly foreign to them? Arakawa's poetic works, presented on hand constructed LED screens, appropriate the curatorial concepts unique to three global biennials and challenge the "ritual" of biennial culture today.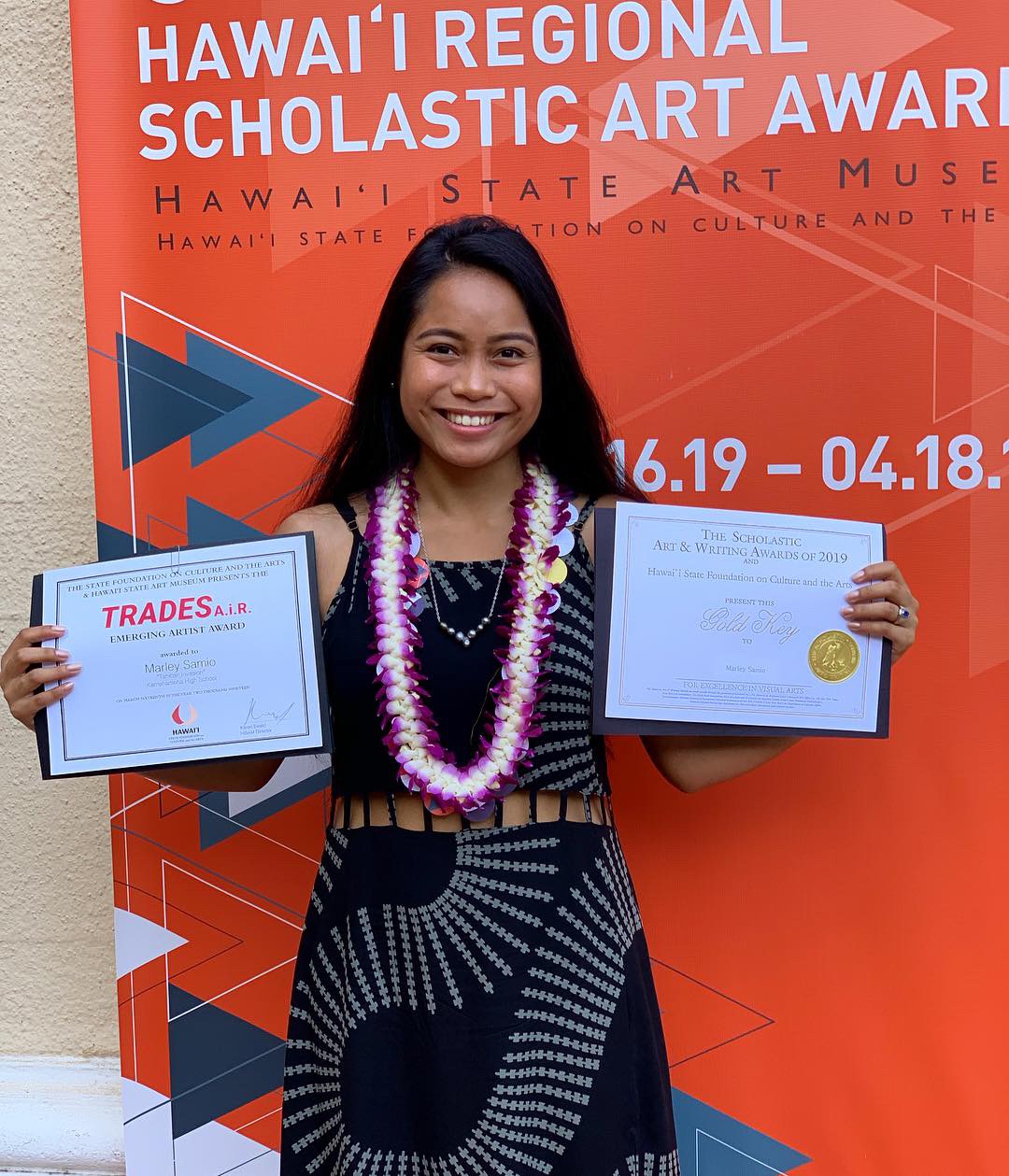 2019 also marks the first year that TRADES participated in the Hawai'i Scholastic Art Awards, by presenting 7 students with "Emerging Artist Award" scholarships. Marley Samio (pictured), a senior at Kamehameha School, also received a gold key for her painting "Tahitian Invasion". Mahalo to the generosity of the private donor who provided the scholarships for Hawaiʻi's next generation of artists!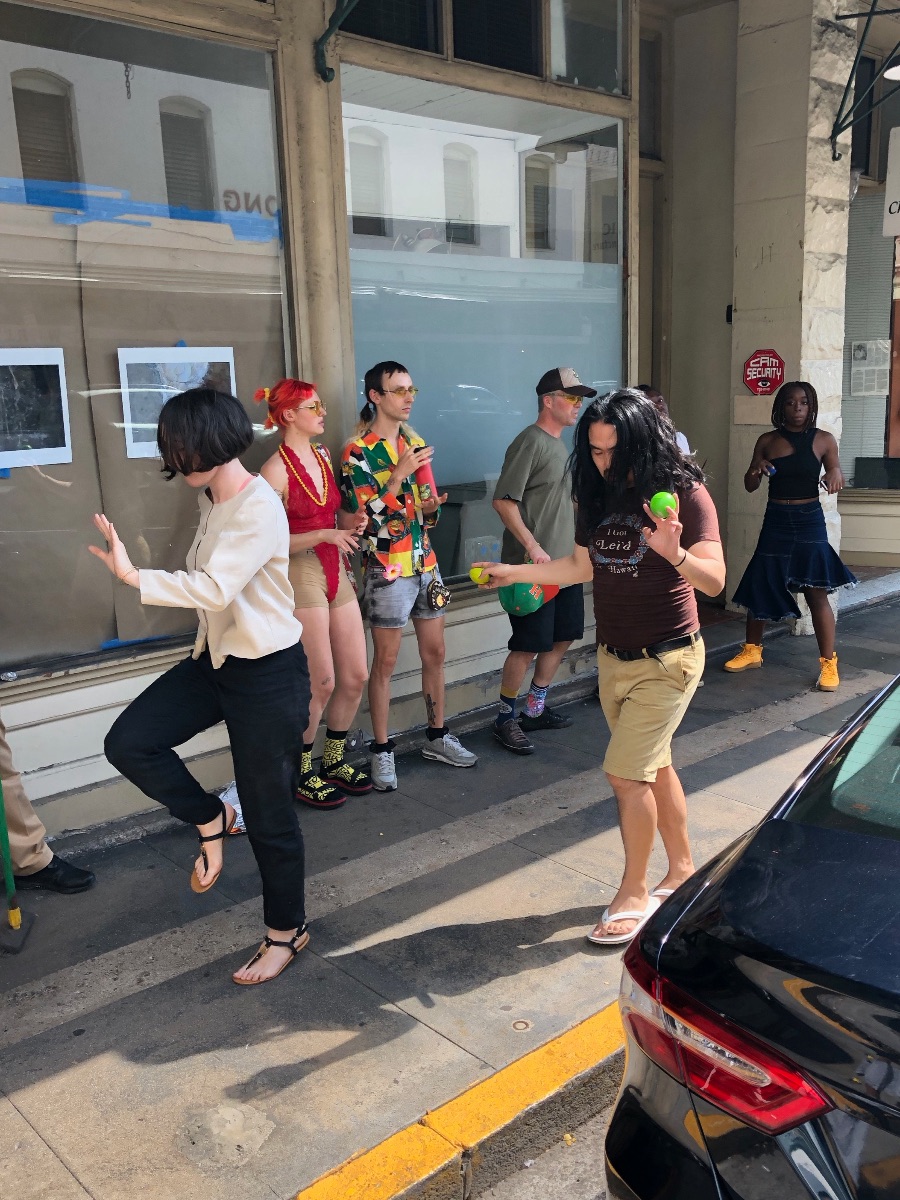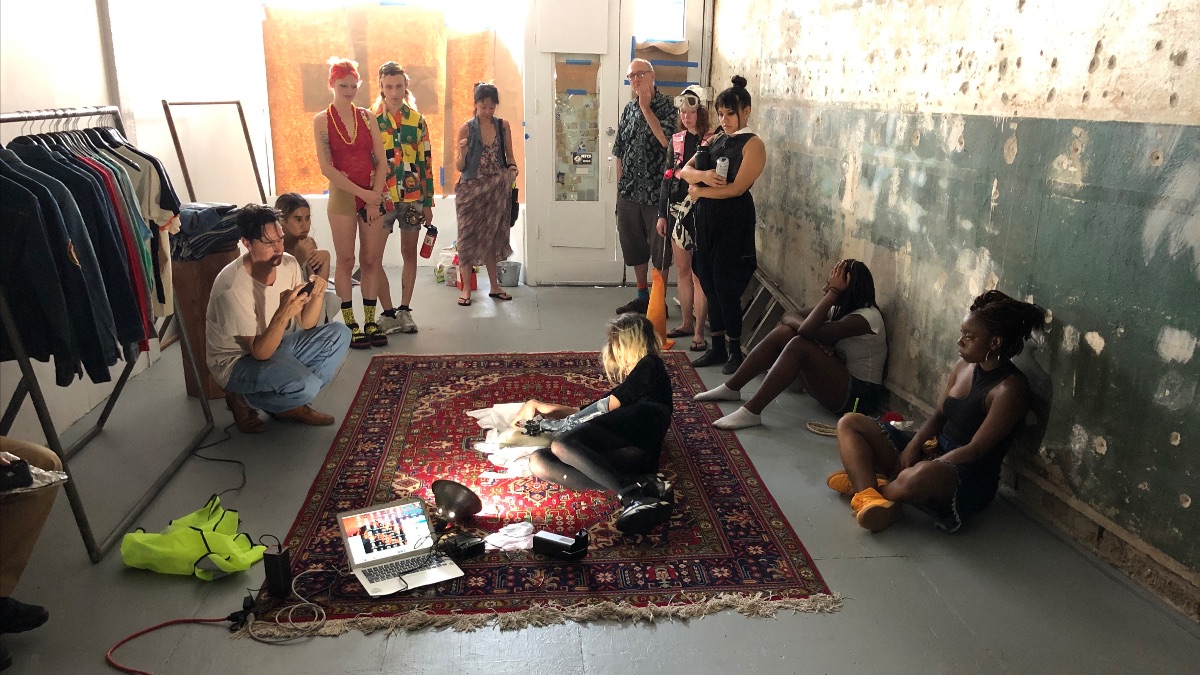 Finally(!), Ei Arakawa returned in early April, along with a group of his own students from Harvard University, for a mini-residency. Over 5 rigorous days, the group of young artists visited all of the Honolulu Biennial sites; had formal conversations with Native Hawaiian cultural practitioners including Kumu Hina and ʻīmaikalani Kalāhele; and initiated a performative collaboration with fellow students of UH Mānoa Art Professor Peter Chamberlain. Titled "WINDOW BOUNCE"; the students acted as performers, spontaneous collaborators, and audience for each other in an hour-long procession throughout Chinatown; followed by a discussion and self-critique of their experience. TRADES is especially grateful to Harvard University, University of Hawai'i at Mānoa, Honolulu Biennial Foundation, John Esguerra/Single Double, Ei Arakawa and a generous patron of contemporary art; all of whom made this residency possible.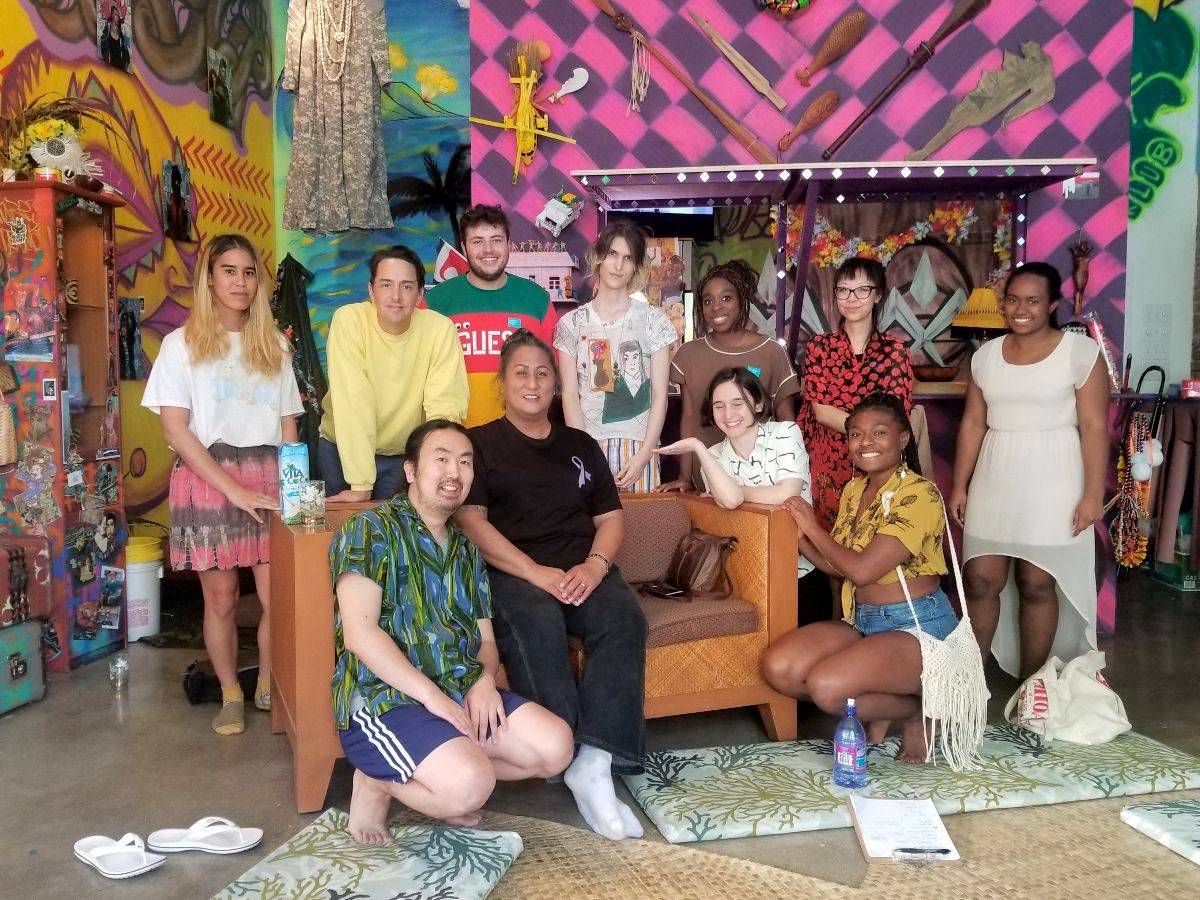 We wish to gratefully acknowledge the support of the Atherton Family Foundation, The Cooke Foundation, The University of Hawai'i at Mānoa Department of Art and Art History, as well as the following:



Andrea Charuk and Blake Miller
SEEQS
Megan Porter
Mindy Mizobe
Geir Johnsen
Mark Heckman
Mark Hixon
Kirsten Carlson
Hawaii Institute of Marine Biology
Lei and Roger Bong
Honolulu Biennial Foundation
Harvard University


Helen Turner
Chaminade University
Michelle Broder Van Dyke
Chris Ritson
Tantalus Botanicals
Morning Glass Coffee
UHM Department of Biology
Jacinto Astiazaran
Royce Hui
Central Pacific Time
John Esguerra
Single Double